Bounders' Log – Haziel
Toronto Star Fresh Air Fund scholarship recipient, Haziel, shares his Northern Ontario Flatwater Journey experience
Haziel was born in Nigeria, but came to Canada from Ghana. After finding out about Outward Bound Canada though Big Brothers Big Sisters Toronto, he seized the opportunity to participate in a wilderness expedition and see more of Canada during his first summer here. Already the type of person who enjoys taking on the responsibility of a leadership position, Haziel hoped to gain more confidence, meet more Canadians, and learn more about Canadian culture. He now mentors children from different backgrounds and credits his Outward Bound experience with teaching him how to interact with different people.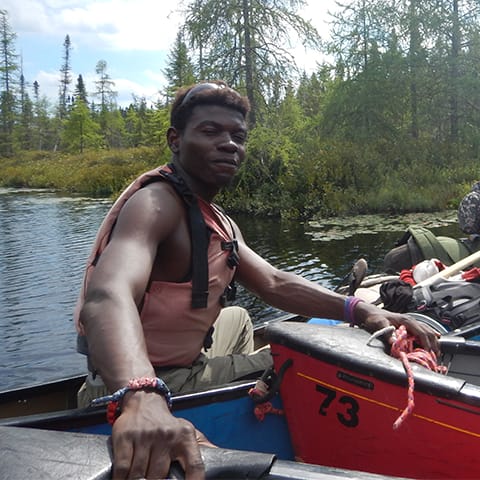 "When I heard about the camping trip, I thought, "why wouldn't I go?" It was a chance to get out of the city and be exposed to nature and wildlife. I'm not sure I realized it before but part of what I did with Outward Bound is in me. I built more confidence and learned to work with different kinds of people. You're literally meeting people who are complete strangers but you make friends. Everyone on the trip had a different background. We had someone from Afghanistan, another was German and Irish, and another was Indigenous – it was very diverse. Meeting different Canadians gave me more experience with how to deal with Canadians. I learned how to be more independent rather than rely on others and it made me trust my gut and do what I think is right. Sometimes things don't go so well and you just have to keep going, organize yourselves, and don't give up. My experience is going to be part of my life… probably one of those stories I'll be telling my kids later on."
For more information on bursaries or to obtain an application, please contact Mary Campbell via email or by phone at 1 888 OUTWARD (688-9273), ext. 211.
Please note all bursary applicants must be Canadian residents.