Bounder's Log: Maddy Wells
Maddy, a high school student from British Columbia, was awarded a Brett Wilson scholarship. In August 2017 she participated in our West Coast Discovery course in Clayoquot Sound.
Last year I received the Brett Wilson scholarship, and it gave me the opportunity of participating in an Outward Bound Canada course of my choice. I chose the West Coast Discovery course set for August of 2017 because it is a stunning sea kayaking and surfing trip through the Clayoquot Sound area. I was so nervous by the time the end of July came around because I was taking a massive step outside my comfort zone by leaving my family and home to spend three weeks outdoors with strangers.
The initial fear wore off as I travelled to our main camp a few hours from the Comox Airport, and I was able to let reality sink in. Everything about it felt so surreal, as if I didn't belong there, but little did I realize I was exactly where I belonged and needed to be. I really did not know much about my trip previous to actually going on it, and I assumed it would be similar to other camps I've attended; however, Outward Bound Canada is an experience like no other.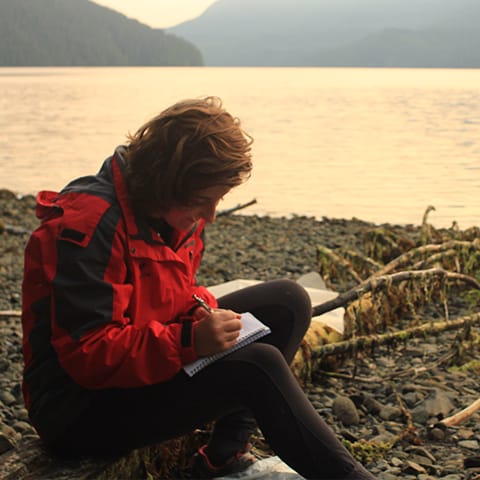 As we first launched from the mainland out into the ocean I had no idea the life changing experiences I was about to have. My most memorable moment from the trip was after we paddled three nautical miles to hike Lone Cone mountain. After eight and a half hours of pushing ourselves mentally and physically we achieved a massive goal as a group and as individuals by reaching the top.
For me I found myself facing my biggest challenge on our paddle back. It was dark, the waves and currents were against us, and it was our eighteenth day on our trip. It was in that moment, paddling back, that the weight of the exhaustion and my thoughts found me. With each stroke I found myself crying, yet they were not tears of sadness. I felt so much peace, because I had done something I never thought I could achieve.
I had told myself my whole life that someone such as myself could never deserve an experience like this, but I was wrong. I learned a lot about myself in that moment: I had the ability to empower others and myself, and I had the strength to push myself mentally and physically further than I believed possible. That is a very powerful thing to realize, and Outward Bound Canada helped me realize what I was capable of.
This trip has changed my life forever: I now look at nature with even more appreciation, I am able to access and respond to different situations better, and I learned many small important life lessons along the way. If you are considering taking a course, but you feel unsure or nervous about taking the course, I suggest start with taking one small step out of your comfort zone. Take a chance on yourself: just start by looking at a course that suits you, and perhaps you will find yourself signing up for an adventure of a lifetime! I am eternally grateful for my experience and those who helped make it possible. My mind often wanders back to my memories of the open water and the sitting by the campfire making new friends and a family like no other.