Everest Base Camp Blog 2018
Follow along from home as we share updates from the field as our team of Reach Beyond adventurers explore Everest Base Camp. Updates from the field provided by our instructor Jody Radtke. Please also visit Outward Bound Canada's Instagram (@OutwardBoundCanada) to see our favourite photos taken by the team.
Day one: We arrived late at night to Kathmandu, but at 9:30 am we gathered again as a group and enjoyed a buffet breakfast. We also officially introduced ourselves and shared our hopes and expectations of the tip. The sharing was lovely and brought us closer. Then we departed by van to visit the Monkey temple, that's not its real name name, it's the local name because, as the name implies, it's full of monkeys. It's difficult to describe how beautiful the temple was to experience. The beauty and spirit still sits with me.
Day two: Early rise to get to our flight! The views from the plane ride were just spectacular! Mountains kept getting closer, wind started picking up and the plane continued pushing forward. After we collected our luggage, the cold mountain weather hit us. We then gathered for milk tea as our crew briefed us on our first day trekking route.
Day three: We made it to Namchee Bazaar today! We moved very well so far but are now starting to feel the altitude. We will have an acclimatization day tomorrow, visiting the Sir Edmond Hillary School in Khumjung and returning to Namchee to sleep for a second night. The evenings are chilly but the days have been partly sunny with a cool breeze which has been great for hiking and not overheating too much. We have crossed many spectacular swing bridges over the Dudh Koshi river. The combination of the jagged mountain peaks sneaking through the clouds and the milky bright blue colour of the rushing river has been quite stunning. The trail has been busy with donkeys, porters and yaks carrying loads of cargo up and down the mountain trails. There is so much to see and take in.
Day four: Incredible day today with the group hiking well on our acclimatization day. First views of Everest , Ama Dablam, Lhotse, Nuptse and the Sacred Mountain Kumbei-yulha from our new high point of 3880m! Blessings for our trek from the local monk capped our day and we are now ready to begin our final approach days to EBC.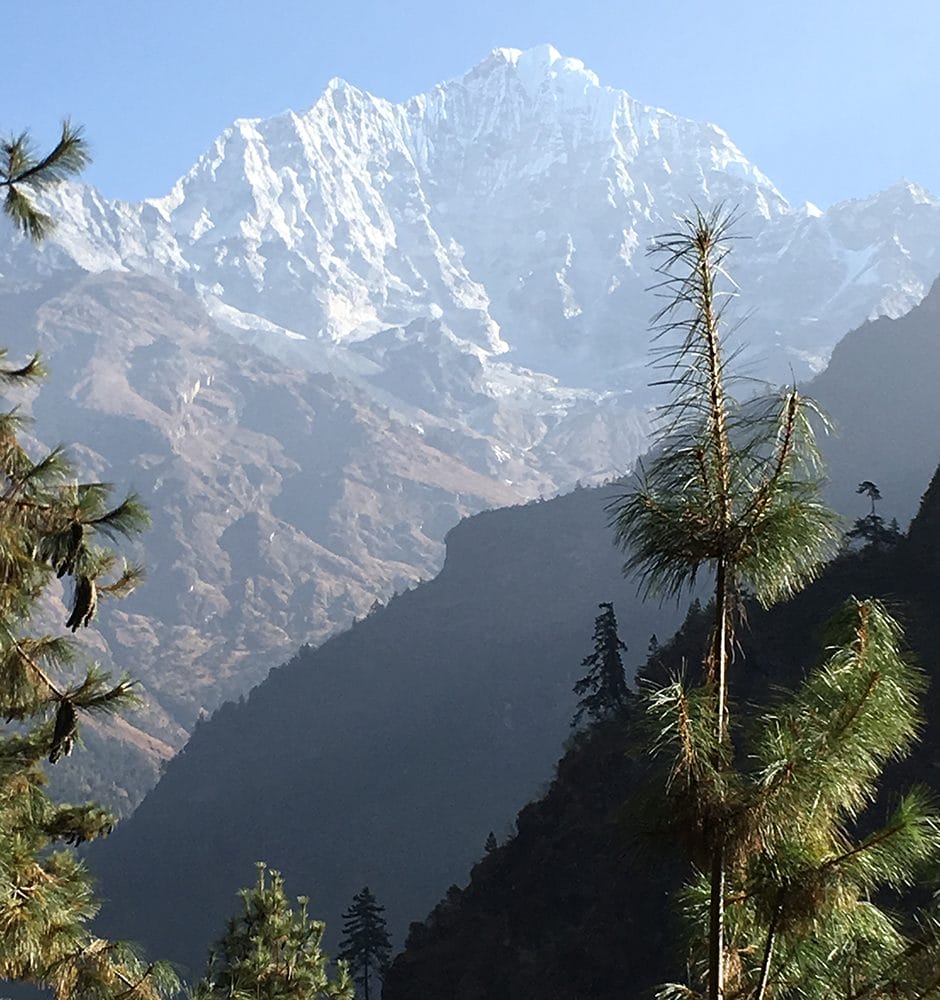 Day five: We moved past Namchee today! We went about 14 kms that took us down about 200 m down to cross the river again and then back up 600 m to the Tengboche monastery. We carried on past it to the small village of Pangboche at 3930m. It was a beautiful hike passing lots of decorated yaks and moving through a mixture of Rhododendron and pine forest. Tomorrow we have a short day up to Pheriche where the Tokyo University Medical clinic is at an altitude of 4240. We leave the trees tomorrow and enter the alpine area. Everyone is doing very well with the altitude.
Day six: Excellent hike this morning followed by a delicious and restful lunch. This afternoon we toured the Himalayan rescue association medical clinic – the highest hospital in the Khumbu Valley. After a talk on altitude illness, some folks volunteered for the research study on high altitude pulmonary edema. We will be monitoring our altitude symptoms over the next four days as we travel high into the alpine.
Day seven: All in high spirits! We hiked from pangboche at 4253m to pheriche at 4280 m with incredible views of Ama Dablam — the mother — all the way. Here we are with our yaks who will help carry our gear: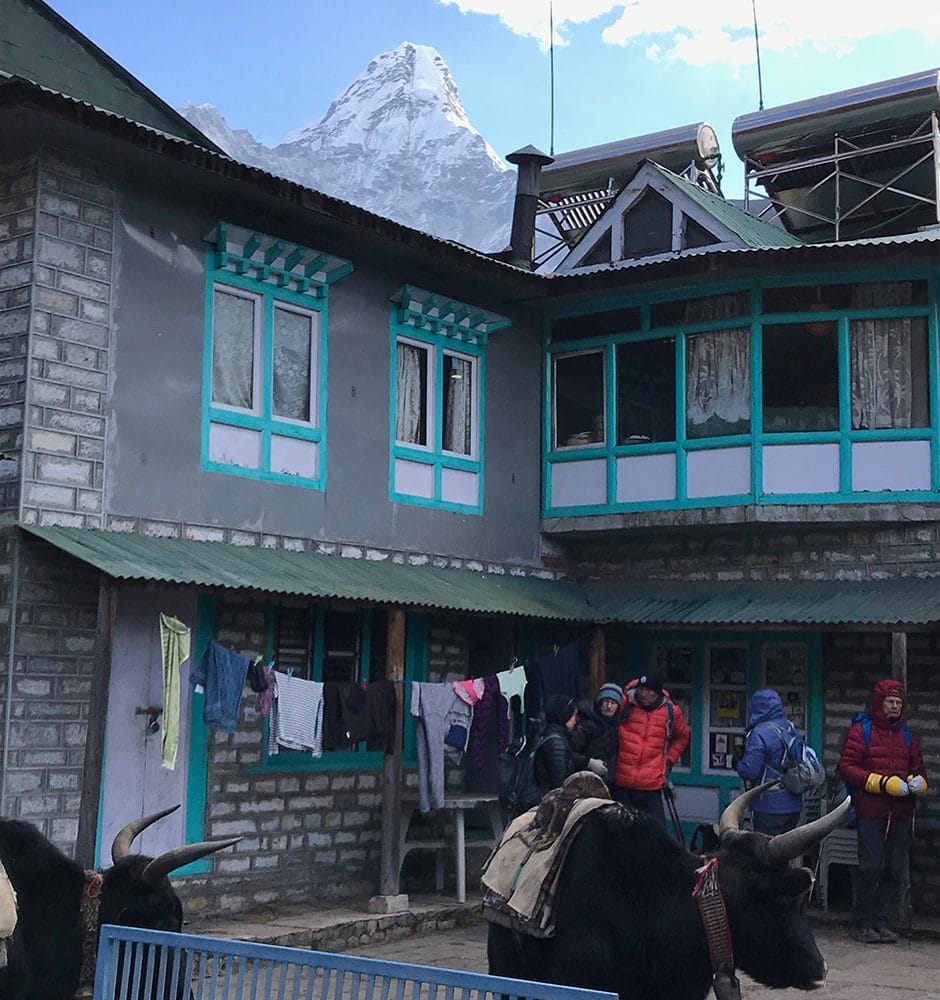 Day eight: We had an acclimitization day in Pheriche where went for a hike up a ridge between Pheriche and Dingboche. Ridge hiking is spectacular because you have amazing views down both sides. We hiked up to 4650 before stopping – what a view! This morning we awoke to another blue bird sky and headed up the gently slopes valley towards Lobuche. (4930) We made it here in good time after a tasty lunch at Thukla. Hiking up the valley bottom was absolutely stunning as we were surrounded by towering rocky peaks. Everyone is adjusting to the altitude very well, although there are a few sore throats. Tomorrow we crack 5000 meters, and pass by Gorak Shep (5170) on our way to Everest Base camp (5364) and Kalapatar (5545) We are all excited to see what is in store.
Day nine: Wow – what a day! We left Lobuche this morning at 7:20 am and made our way up to our final stop of Gorak Shep at 5180. We have cracked the 5000m altitude! This of course comes with a price, we are moving very slowly and carefully keeping the headaches at bay but everyone is in great spirits and excited with our progress. We have lunch at Gorak Shep and then prepare to climb Kalapatar up to 5545m! Again we work away at it slowly and arrive at the summit in 2.5 hours at 3:15pm. The views of Everest are spectacular and the feeling of accomplishment fantastic. With this height under our belts our sleep tonight at Gorak Shep will be much better (climb high – sleep low) and the Base camp (5364) hike in the morning will be comparatively easy. After a short nap we will get up at 4:30 and head to Everest base camp so we can be back for breakfast in time to start our descent to Pheriche, so no doubt it will be another big day tomorrow as we start our trip back down to Lukla. At least we'll be walking with huge smiles on our faces.
Day ten: We made it to base camp and then headed back down the trail to Pheriche (4150m). The extra oxygen in the air is lovely but we are all pretty tired from the early start for Base camp (4:30 am). We also had a great session tonight from our guide Lakpa on the Nepali culture and economic situation.
Day eleven: We left Pheriche this morning in another gorgeous blue sky day but sadly we have left a couple of our group members behind. One of our members picked up a tummy bug which kept her up all night and so she flew to Lukla to rest and recover. The rest of us carried on walking towards Tengboche for lunch and the impressive monastery. We are in good spirits but the hard work trekking is taking its toll on us. As we descend the air is easier to breath and the weather is generally warmer so that is helping.Tomorrow we are excited to see Namchee again and then carry on to Monju.
Day twelve: "Reunited, and it feels so good!" We have all come back together in Lukla today. Along the hike today we saw two farms where oxen were pulling wooden plows through the fields. It stopped us in our tracks as we watched in wonder. As we moved down the valley the hills became more lush and the warmth of the lower altitude climate was lovely. We arrived in Lukla mid afternoon and had a lovely time reconnecting and exploring the village. This evening we had a final dinner with the guide team and many congratulations and thank yous were exchanged. Tomorrow morning at 6:00 am we walk next door to the airport to make sure we are ready to jump in our plane when it arrives. It is bittersweet leaving this magical place but we have all worked hard and are looking forward to some rest and cleaning up in Kathmandu.