Iceland Expedition Log 2017
Follow along from home as we share photos and updates from the field on one of Europe's premiere treks, moving from volcanic highlands, past tumbling waterfalls, until finally arriving at the North Atlantic Ocean. After seven days of unforgettable trekking, we'll celebrate our expedition in the world's northernmost capital, Reykjavik, and then end our Iceland odyssey with a well-deserved dip in the world-famous Blue Lagoon Thermal Baths.
---
Day 1: The Iceland team is all together. Touring Reykjavik before we head out on trek tomorrow. We had a great day today in Reykjavik. This photo is of the Hallgrimskirkja – church named after poet. We had a great cultural tour of the city in the morning and then spent the afternoon packing for our trek that starts tomorrow, getting last minute supplies and resting up. Dinner tonight at local tapas bar that has puffin on the menu. More tomorrow!
Day 2: Our Tapas dinner was phenomenal. Lobster, quail, steak, scallops, etc. But no puffin! We are now on the bus headed to landmannalaugar where we will start our 7 day trek. Today we trek with full packs to about 1500ms, with 500m elevation gain. We should hit snow at about 1000m. We are sleeping in alpine huts along the route. Also all along the route are hot springs, water falls and volcanoes – the land of trolls and game of thrones! The group is in great spirits, everyone well rested and well fed.
Day 3: Day Two of Trek – Hello from Iceland! We had fabulous weather today – hiked 16kms which included a side trip up a mountain. From the summit, we could see half of Iceland, the major glaciers, tallest peak and the Arctic Ocean. This is a stunningly beautiful country with a mixture of colours – white, mossy green, blacks, browns, orange, purple and blue. Hot springs spouting boiling water and water falls at every turn.
The terrain today had steep ups and downs, and a few river crossings. We arrived at our hut at about 5pm and then some brave souls took a dip in the glacial fed lake by the hut. The huts are lovely and in good shape. There are lots of other young trekkers, mostly from Belgium and Switzerland, staying at the huts which makes for a lively atmosphere. We had a great dinner of pasta with beef sauce, salad and skyr cake for dessert. Everyone is healthy and happy but with some sore legs and bodies.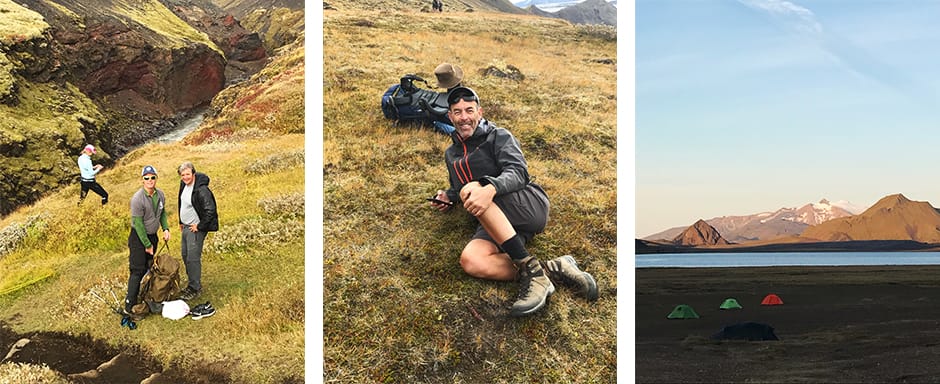 Day 4: Day Three of Trek – We are off to hut 3 today. About 16kms of hiking, with some bigger river crossings. Another beautiful day. Hoping to see some Trolls along the way…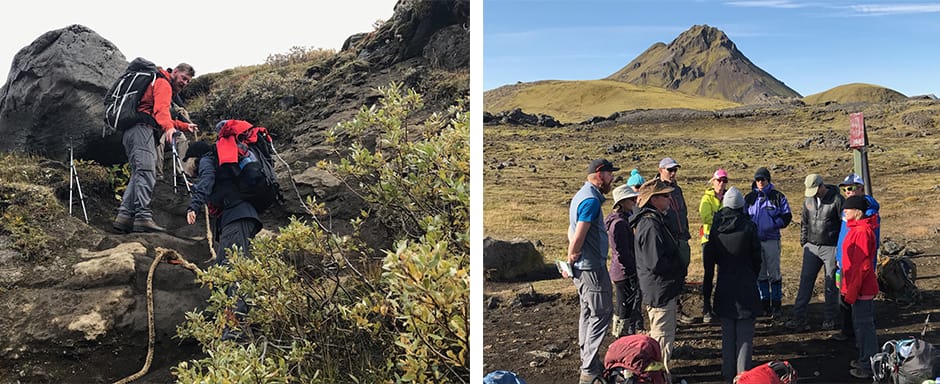 Day 5: Day Four of Trek – Doing well! Everyone is having an awesome time and we are having some real Outward Bound moments. The food is plentiful and good. We do the "pass" in two days so tomorrow will have a rest day to prepare. We have not seen any trolls or ogres yet, but still hopeful.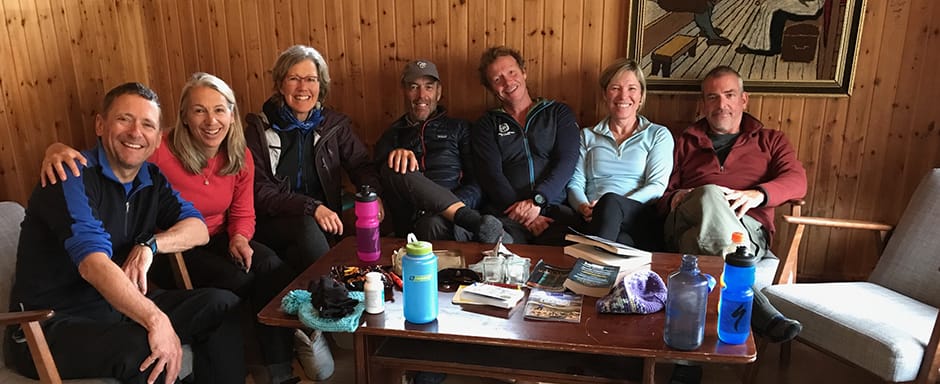 Day 6: Day Five of Trek – Today is a rest day. We are at Pomorsk, staying at the volcano huts for two nights, before we head up and over the pass tomorrow. Last night we were treated to a hot sauna, showers and grilled salmon for dinner. And to top it off ….a northern lights show before going to bed. This morning we had some much needed solo time, a chance for pause and reflection, before the final push. Looking forward grilled lamb for dinner tonight. Everyone is well and feeling good – a few sore muscles but no more than that.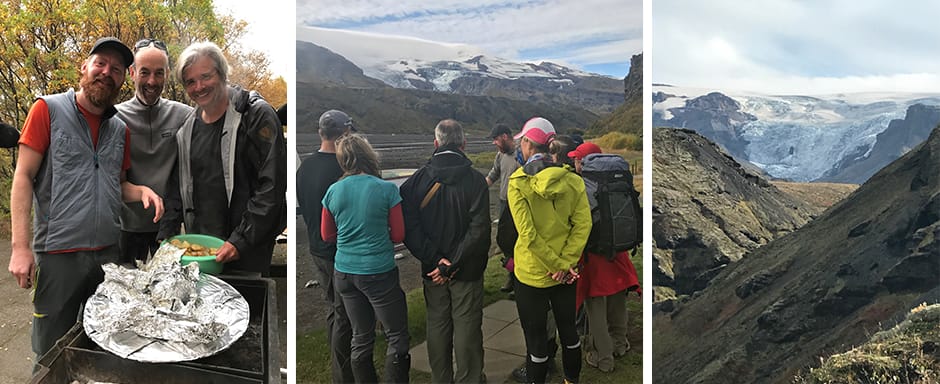 Day 7: Day Six of Trek – We are heading up the pass today, 3000ft of climbing. Weather looks good but we expect precipitation higher up. The group is in good spirits after some R & R yesterday and a big feast of grilled lamb and salmon last night.
Above from left to right: Dinner in Iceland! OBC Board members Dave and Dan grilling lamb over coals with Eaver, our Arctic Adventures guide. The group preparing to head up to the pass.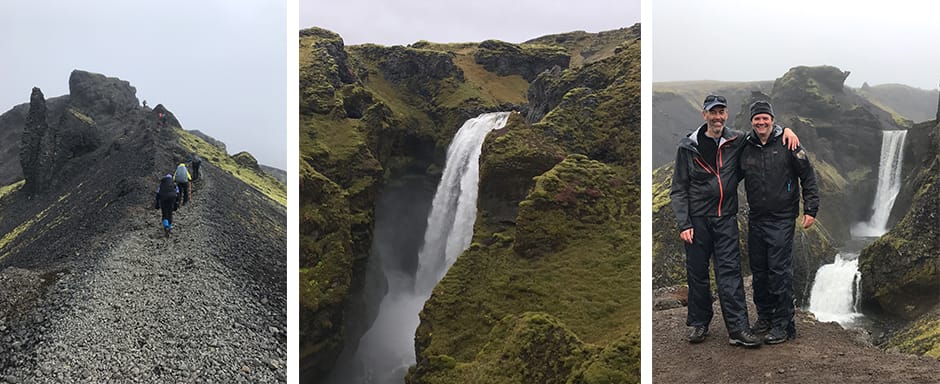 Day 8: Day Seven of Trek – We had a great last two days of our Trek in Iceland. Yesterday was a true "Outward Bound" day – long and challenging with steep ascents and descents, rain and wind. However our intrepid team of 12 succeeded in reaching the pass in high spirits. Today we descended from the pass, passing by 23 incredible water falls and finishing with SkogaFoss, the most beautiful of all. The team is on an Outward Bound high- inspired, empowered, tired, elated, and full of well being. Another amazing Outward Bound Canada Reach Beyond Expedition which will provide funds to support others to experience such a journey themselves. Get Out. Look In.
Check out the rest of the photos from our trek on Flickr!