Nahanni Expedition Team Instructor: Jason Kuruc
I truly believe that Outward Bound transforms people's lives in a positive way!
Outward Bound is so much more than a physical adventure… being immersed in an "Outward Bound experience" has limitless potential in terms of human capacity to learn, grow, and transform. As an OB instructor, I have personally witnessed in others and have experienced for myself how the power of the human spirit can show you how to be your best self and be a positive contribution to society! The programs and courses that Outward Bound offers are life changing and a critical opportunity for participants to reconnect with themselves and the environment they call home.
When I was a teenager, I really wanted to go on an Outward Bound course. When I realized that I could not afford it, I was a bit discouraged. I found other ways to engage in wild adventures and transformative experiences but the desire for an OB experience still lingered. What I didn't know at the time was how OB offers bursaries and scholarships to students who can't outright afford an OB experience! I wish I knew then what I know now. Fast forward 15 years and I find myself working as an instructor and a course director for OB and fulfilling the dream of having meaningful work.
I have a deep passion for wild places, especially river environments, and my favourite thing to do is share that passion! I have been canoeing for over 25 years, guiding or instructing for about 15 years and have guided on the Nahanni for several years. As a graduate of the esteemed Thompson Rivers University Adventure Guide Diploma, I have dedicated the majority of my working life to guiding, instructing and sharing adventures. This also kickstarted my dense list of certifications! To name a few, I am certified through Paddle Canada as an Intermediate Moving Water Canoe Instructor, through Rescue Canada as a Swiftwater Safety Rescue Technician III and I hold a 90 hr wilderness first responder certificate. The North has a special place in my heart and I am thrilled to be going North again and sharing the experience with the wonderful people on this expedition!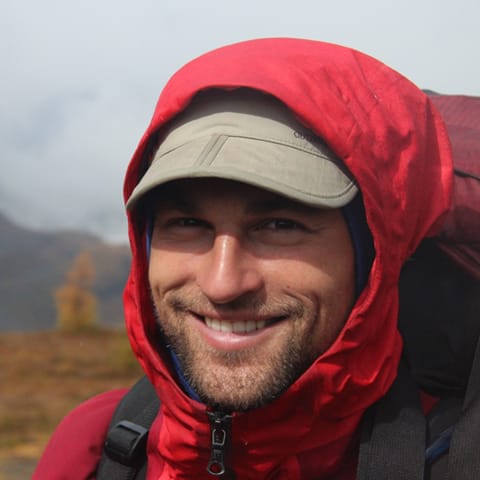 Born and raised in the Toronto area, I inevitably migrated out west to pursue post secondary and live out my passions in the river, ocean and mountain environments I now call home. In my spare time, you'll find me whitewater kayaking, mountain biking, backcountry skiing or riding my motorcycle! Through all these adventures, I continually learn from everyone around me and of course, mother nature.
I am very excited and humbled to be a part of this year's Reach Beyond Expedition on the Nahanni River and to help support Outward Bound Canada.
For more information on Reach Beyond expeditions please contact Angus Murray via email or by phone at 1-888-688-9273 ext. 229.