Why I Give to OBC: Joy
Joy is an alumna of our Women of Courage and Veterans' programs. This is why she chooses to give back to OBC:
I had heard about Outward Bound as a teenager and thought I would really enjoy it, but over the years I forgot about it. In 2015 I was trying to make decisions about my upcoming retirement from the military and looking into the possibility of working in the outdoors when I heard about the Outward Bound Veteran's program. I was just getting over a rough few years and my confidence had taken a beating so, I was very nervous about the idea of such an undertaking. The Veteran Program coordinator on hearing about some of my background suggested I also look into the Women of Courage program which I did.
I was very intrigued by the idea of going through a physical and mental challenge with other women who were survivors of abuse. This was a subject I rarely talked about and I certainly didn't seek out groups of others. I applied and was accepted to the Women of Courage Backpacking course.
I was still very nervous about the idea, but I showed up in Canmore ready to try it. The experience was amazing in so many ways from the inspiring friends I made, to the confidence I developed by pushing myself far beyond what I thought I could do, to the incredible calming effect of the beautiful Rocky Mountains. When I got home, I realized I had started to "find myself" again. I was so grateful for the experience and the people that I decided to donate so that other women could attend.
The next year, as my own personal strength slowly increased, I applied to the Veteran's Kayaking Bay of Fundy course. I thought it might enhance what I had started to develop on the WOC course, but it gave me totally new challenges and it helped me understand that there was still so much more regaining of my "self" and growing to do. I had a few moments that were very emotional for me, but they helped me realize that I was still a work in progress. Amazingly, I was asked to participate in the WOC Fundy backpacking course as a mentor. For me, it was a great honour and, once again, I realized I had far to go, but that was okay because I was still getting stronger.
It was also inspiring to meet the incredible women who had survived so much and had so many gifts to pass onto others. Doing such simple things as building my own fire for the first time in my life gave me total delight. It was bringing the child back out in me. And, I saw everyday in all three courses, the calming effect that the environment had on the participants. I literally saw one man transform from an extremely quiet, withdrawn individual to a person who was comfortable, laughing and playing in the ocean five days later. Watching my new friends support me and each other, while working on their own emotional progress, paddling on the ocean was beautiful and humbling.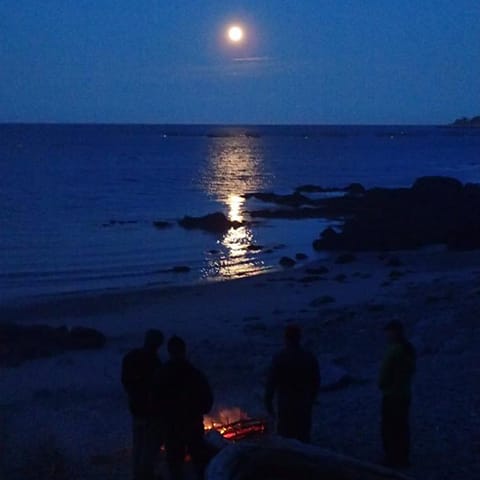 My experience has led me to return to college for Recreation Therapy in hopes of, one day, working with such programs as Outward Bound as a facilitator for those in similar circumstances. I am planning to attend more Outward Bound courses in the future to challenge myself, keep growing, and to play in the beauty of nature. In the meantime, I hope to keep contributing whatever I can – everyone deserves the chance to recover from difficult experiences in the healing beauty of the outdoors.
Learn more about Outward Bound Canada's charitable programs and find out how you can donate.