What is the Women of Courage Program?
Written by: Carl Hiehn
An interview with Women of Courage Coordinator and Instructor, Lara Hollway
Outward Bound Canada's Women of Courage Program offers inspiring journeys of adventure, challenge and healing in the Canadian wilderness for women who have experienced violence and/or abuse. We spoke with our Women of Courage coordinator and instructor, Lara Hollway, to learn more about her first-hand experience with the Women of Courage program.
Lara Hollway (LH): The Women of Courage program in Canada has been going on since the late '70s and early '80s. It's a longstanding program. Women of Courage is usually an eight day program in a wilderness expedition where we take women who've survived either abuse or trauma into the woods either backpacking or canoeing.
What was the original intention behind the Women of Courage program?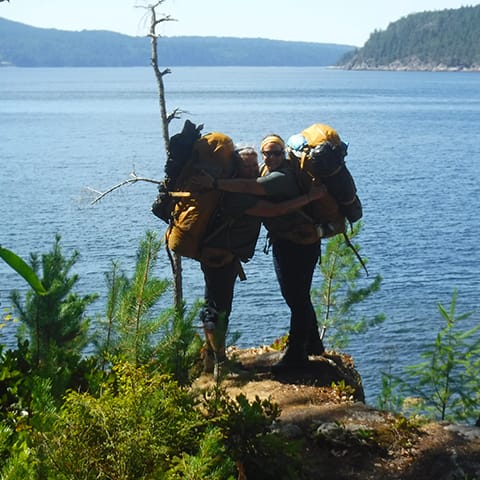 LH: When Women of Courage just started, we were taking women on trips who were more in a crisis point-of-view or at a point in their life when they were dealing with a lot. We would also take therapists into the woods with us. But what we realized was when doing that, when you're in crisis, so much of your energy needs to be spent on survival. So adding the kind of adventure and stress and day-to-day living in the woods wasn't beneficial because so much of the womens' energy and mental space was focused on, "How do I survive in my life right now?".
We've since transitioned to taking women into the course when they're feeling more grounded and more centred. They've already done the therapeutic and the healing work and are now at the point where they say, "I don't identify as a victim. I don't identify as needing to learn to deal with trauma. And more at a point in life where I'm asking 'what's next?'."
Our focus has changed from women in crisis to women who need a point of inspiration. We can offer that catalyst for change. Come on a trip with us and reflect and dream and find out there's more in you than you know.
How would you like to see the Women of Courage program evolve or develop over time?
LH: I would love to work more with Women of Courage alumni.
Right now we run four to six programs per year, depending on funding. I'd obviously love to offer more women of courage trips. Specifically, I'd love to have a dog sledding Women of Courage trip.
And right now, I want to be asking, "what can Outward Bound offer women after they've gone on one of our trips?". So I would love to offer interested alumni the opportunity to work with us and get involved leading future trips.
What struggles (either physical or mental) can participants expect to encounter on a Women of Courage program?
LH: Just like any Outward Bound trip, you're going to struggle and that's kind of the point. Pitting yourself against the beliefs of yourself. So, if for example, you're enduring a backpacking trip, at the beginning you're like, "Oh my goodness I can't lift this backpack!", but by the end day being, like, "Ya, I'm so much stronger than I knew."
Of course there's weather challenges: being colder than expected or hotter than expected. And emotional challenges too. For example, Women of Courage often has a lot of mothers on the trip and it can be hard leaving their children. But then, all that being said all those struggles are worthwhile to engage in.
I've yet to be on a Women of Courage trip and in the end the people weren't glowing.
What challenges are unique to Women of Courage participants?
LH: What differentiates it from other Outward Bound programs is we spend a lot of time in intentional conversation and intentional circles. We try and draw up in a forward way discussions of strengths, and discussions of goals, and discussions of dreams for the future, and discussions of finding that grounding in the outdoors and bringing that back to your everyday life. And what I've heard from other women is these discussions can be very powerful but also very hard. I think that kind of emotional vulnerability that's required may be one of the struggles. We're not unpacking trauma and we're not getting into specific traumas that happened to them. But there's still emotional vulnerability thats required and it can be hard.
Why is it so important for women to support one another and learn to support one another not just on an Outward Bound program, but in their day-to-day lives?
LH: Great question. I feel that female friendships and women supporting other women is one of the most powerful things. And I can't speak to the male experience but definitely from the female experience i think both on a smaller level of finding women in your life who are going to hold you as able and are going to see your strengths and vulnerability and are going to have your back regardless, I think thats so powerful.
I also think women who've gone through trauma are going to tend to struggle with isolation. What we do at Outward Bound is to show them they're worthwhile and how great it can be to connect with and support other women.
In terms of being out in the woods, a lot of women are introduced to wilderness and camping and all of that through men; whether its your father taking you out, or your male partner, or your male friends. Its been my experience that women aren't encouraged to learn the more technical side of things: setting up a tent, or starting a fire, or setting up a camp stove, or navigating on a map. And so once you're just a group of women out there, there's a lot of support to take the time you need to learn something and the time you need to feel confident in it, and I think that can be really powerful as well.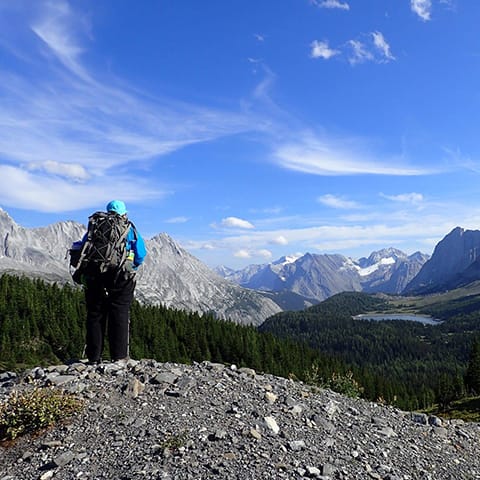 Are there trends among the type of female participants in the Women of Courage programs? For example their personal history, age or what they'd like to achieve over the program?
LH: Yes and no. We get a very wide range in age, geographic locations and cultural backgrounds. And i think that diversity on Women of Courage programs really helps create a really strong course. I love a course when you have women in their 20s and their 60s all being together. Maybe that's just me?
But in terms of trends, things I hear the women say they're looking for a lot are, "I'm looking to find my strength again.", "I'm looking to connect with other women.", "I'm looking for inspiration.", "I'm looking to make female friendships.", and "I'm looking to laugh.". Those statements, in some form, come up in nearly every interview.
Oh, and a lot of women want to learn these things so they can take their kids out hiking or canoeing. I love hearing women say that.
If you feel comfortable sharing, what is your experience travelling and overcoming personal challenges, struggles or hardship?

LH: Ya I think I definitely come from my own journey with struggling with mental health and also with some other events in my life that give me a lot of personal understanding of why other women are looking for something like this and where we're all coming from in terms of our shared history. I've certainly found those who've struggled in their own life have more empathy when working with other people. I definitely share that and I think it allows me to connect with the women when I'm interviewing them.
What advice would you give to women about to undertake a Women of Courage program?
LH: I would say to give yourself time and space to get ready. If you're feeling anxious, know that everyone else is as well. And to really trust the process. We've done this a lot and we're really here to hold you and to hold a space for you. Oh, and I'm here to answer any questions.
Is there anything I didn't ask about you'd like to touch on?
LH: I think the role of goofiness on a trip is undervalued. It's often hard to tell women about goofiness on the phone – it's like trying to explain a joke – but when you get a bunch of women out in the woods it's so much fun. Usually by the third day it starts to come out who the group comedian is around evening fires. I believe laughter is such a huge part of Women of Courage.
To learn more about our Women of Courage program click here.