Magnetic North Pole Expedition Log
Relive the journey of our Reach Beyond Magnetic North Pole Expedition from the comfort of your own home! Taking you on an exclusive 'behind the scenes' adventure to the Magnetic North Pole, our team of 9 explorers pushed themselves to the peak of their physical and mental limits, while simultaneously raising funds for OBC's vulnerable youth and adult programs. Relive the journey, below. To donate to our vulnerable youth and adult programs and help change the life of an individual in need, click here.
Meet the team that will be making their way to the Magnetic North Pole in celebration of Outward Bound Canada's 50th anniversary.
OBC launched our Magnetic North Pole Reach Beyond Expedition on April 11 with an intimate event at Arc'teryx's Queen Street West location in downtown Toronto.
Member's of the expedition team celebrated their upcoming journey and joined family, friends and stakeholders for a send-off and to share in a collective passion for outdoor adventure and its impacts.
THE TEAM IS GETTING READY
The Magnetic North Pole team are busy getting ready to head North! The adventure starts as the team gathers together in Ottawa for their flight to Resolute Bay.
Here are instructors Scott (left) weighing tent bags and Angus (right) comparing GPS coordinates to topo maps.
The team are also nearing their fundraising goal – use the link below to check out their progress and to donate as part of their big send off!
FIRST DINNER TOGETHER IN OTTAWA
The Magnetic North Pole team have begun their journey to the Pole! The group has congregated in Ottawa where they have come together for a meal to kick off their collective adventure.
Missing from this photo is instructor Angus, who has gone ahead of the group to Resolute Bay to prepare for the team's arrival.
Follow along here as we update on the team's progress as frequently as we can.
VIDEO UPDATE: IQALUIT TO RESOLUTE
A short update from Bo from the field as the team journeys from Iqaluit to Resolute, at the start of their journey to the Pole!
HEADING OUT!
Check out this photo of the group heading out on their way from Resolute Bay to the Magentic North Pole!
This is an historic moment for Outward Bound Canada, as it marks the furthest north we've ever gone on expedition in our 50 year history!
Looking forward to our next update from the team on their progress. Show your support and encouragement by donating to their fundraising efforts!
INREACH UPDATE
The map below shows the location of the team as of the evening of Friday, April 26.
MULTI-DAY UPDATE FROM SCOTT KRESS
The first few days on the ice have been challenging but rewarding for our team. Friday, April 26th was their first full travel day on the ice. Everyone got a sufficient amount of sleep but some were a little cold as the temperature dropped to about -28 overnight.
The team woke at 6:30 and were packed and on the trail by 9:30am. The temperature was about -20 with little wind so it was fairly comfortable. The terrain started out pretty good and quickly deteriorated into tough to navigate, multi year ice that had been pushed up into a jumbled mess. As the day went on the clouds built and visibility dropped with very flat light conditions. It was difficult and time consuming to weave through the ice with poor visibility.
The team is working toward 6 one hour ski blocks with a 10 minute break after each block and travelled approximately 16km on that first day, but veered a bit too far to the east when they should be been travelling due north.
Day 2 on the ice, April 27th, was quite a good day for the team. They woke once again at 6:30 and started their chores; eating, getting dressed, packing up, and taking down the tent, and we were once again on the trail by 9:30am.
The night was cold, likely In the -30 neighbourhood, and some of our team were cold in their -40 sleeping bag, which is unusual. The morning brought a temperature of approximately -24 but it was a bluebird sky and the sun was warm and the wind was at their backs.
The trail started out ok, got really rough and then turned quite good. They made good time as the snow was wind blown hard packed and the ice surface was relatively flat. After 6 ski blocks they had covered about 18km.
The excitement for the day was seeing Thor Island. Compared to their first day when they were mostly travelling blind, it was nice to see a well known landmark that confirmed they were travelling in the right direction!
Day 3, April 28th. At the end of the day the team was sitting in their tents with wind burned faces. Their day started a little earlier than usual and they worked hard to be on trail for 9:00am.
The sky was blue with no clouds and the temperature was -20 with a light head wind which dropped the windchill to around -30.
They set out on hard backed and relatively flat snow. There were a few sections that required route finding, but much of the day was pretty straight forward allowing them to travel a good distance.
They started with Thor Island way off in the distance and by the end of the day it was behind them with 19.5km skied.
At this point, they could see the peninsula of Ellefringis Island where they will enter their land crossing. Everyone is doing well and are comfortable and warm in their tents.
One element that adds a lot of fun is their polar bear dog named Puppy. Puppy is 5 years old and is a very nice Husky. For the first few hours on day 1 they tried to ski with him on a leash and it was very difficult as he kept getting tangled in all the sleds. They decided to unhooked him and pretty soon all they could see was a small black dot on the horizon. They were a little worried he was heading for home, but after a bit of exploring he was back.
He now walks beside the team all day and sometimes goes ahead to explore. Every now and then he stops and watches everybody ski by getting a little scratch from each person. At night the team builds him a little sleeping spot with some snow blocks and a insulation pad. He has become a great part of the team and fits in well.
The landscape is stark, but beautiful. It has been consistently cold and a light wind each day. Everyone is doing well and looking forward to what the next few days will hold!
EXPEDITION UPDATE: TUESDAY, APRIL 30
Tuesday, April 30th was the teams longest and hardest day yet. They woke at 6:15 after another cold night and were on the trail by 8:50am. Initially the conditions were great and they made very good time. Thor Island was far in the distance and they had their sights set on the peninsula of Ellefrengis Island. They followed their GPS way point and after about 3 hours left the sea ice and entered land.
Once in land, the terrain started to move upward. It was gradual at first but difficult nonetheless given that any incline is felt when one is pulling a sled. To make things worse the snow turned to a mix of concrete and crystals. Neither of which make for good traction for the skis.
As they progressed the terrain got steeper and the snow decreased and they found themselves picking their way up a steep valley between patches of snow. The going was slow and hard. After a few hours, the team crested into a big snow bowl and the group was getting tired. Our fearless leaders urged the team forward, it was steep and hard but they persevered until they were back into the deep snow and found a nice spot to camp.
The team has about 18km more of land travel and are I hoping it gets a bit easier. It will take them all of today and perhaps some of tomorrow to get through. This is the most difficult section of the trek and they're hopeful that the weather stays nice as that at least makes the trekking a little more pleasant.
EXPEDITION UPDATE: WEDNESDAY, MAY 1
The team was camped 10km from their goal last night!
The morning brought warmer weather, approximately -15 but with a fairly strong head wind that made it feel much colder.
Right out of camp the team started on an incline. They climbed for what seemed like a long time until they hit a drainage valley that they hoped was flowing to the ocean. They followed it as it snaked back and forth and after about 5 hours of skiing they emerged onto the ice.
Crossing the peninsula was one of the most beautiful parts of the trip. The variety of topography, the rocks, cliffs and hills were quite striking.
The going was quite tough much of the time and they alternated from good hard packed snow to loose and crumbly snow that was hard to pull through.
As they pulled out onto the sea ice again they were happy to be on the flat surface once again. Hazy Cape, which is where they are heading, seems to always be basked in sunlight and looks quite beautiful from their current vantage point.
The team should reach the Pole just after noon today. The weather will dictate how long they stay and what they do.
Stay tuned!
THE POLE IS THE GOAL: DESTINATION REACHED!
The team has reached their destination!
On Wednesday night as the team slept, a new weather system moved in. Their tents started to shake from the wind and the clouds started to form. By morning the wind was blowing 25km and visibility dropped to about 2km. They packed up camp and by the time they were ready to go the wind had picked up evenmore, the clouds filled in and dropped to surface level, and the snow began to blow. This all resulted in near zero visibility.
Scott Kress, one of fearless leaders, pulled out the GPS to find their direction of travel and tried to set his compass by it. However, the compass just spun in circles and was useless. He tried to find a landmark and set off in that direction but the team was almost immediately off course. The plan they developed had Angus Murray, or co-team leader, leading and Scott hanging back and off to the side to direct him and let him know if he was veering off course.
By the second ski block Scott could see a landmark in the distance but I could see nothing at his feet. The light was flat with no horizon and it felt like skiing inside a ping pong ball. The effort was huge but the team ploughed forward trying to make some headway towards their goal.
By 2:00pm they had travelled 10km. They were moving slowly but getting closer to their goal. At around 2:30pm the team arrived at the magnetic North Pole in a blowing storm. Fortunately, it was not too cold and they enjoyed 30 minutes savouring the time and taking photos. They gathered in a circle, read Heroic Hearts by Ulysses and sang O' Canada.
They were incredibly excited to have achieved their goal, but their journey was not done yet. They needed to get out of the broken and piled up ice to find a place for the plane to pick them up. They set off and soon realized they weren't going to get far in the extreme conditions.
Scott and Angus angled them back closer to shore to find a sheltered spot. After a while they found a large ice block that had created a wind block and drifted snow. They stopped, and with teamwork we were able to excavate two holes and build 4-foot snow walls to protect their tents. It took them 90 minutes but when they were done they had two solid tent set ups and were ready to hunker down for the night.
We're incredibly proud of our team for reaching their goal safely! We're hopeful that the weather has cleared and they're on their way to they're next and final location today.
FINAL UPDATE FROM THE FIELD
On Friday night our team was safe and snug in their tents at the Isachsen weather station.
The day began as the rest. They woke up at 6:30, sparked the stove, ate, drank and packed. The wind had been high all night and the constant flapping of the tent made it difficult to sleep. Throughout the trip, most of the group found they fell asleep quickly around 9:00pm due to exhaustion from the hard day's work and slept well until about 2:00am. Then it was off and on for the rest of the night.
The wind wasn't too bad in the morning as the team packed up the tents and the sun peaked through the clouds enough to cast a shadow.
Visibility was good and the team could see their destination 17km away across the frozen sea. It is amazing how much distance one can travel by foot given enough time. What was once just a shape on the horizon would loom huge in front of them after 5 hours of skiing.
As they travelled the wind picked up in intensity and was soon blasting them full force. It was so strong that it slowed their forward progress.
The tempest increased to the point that it was blowing them around. It was quite strong but it was a relatively warm wind so the wind chill was not an issue.
The surface was quite smooth as it is constantly scoured by the driving Arctic winds. As they got closer to their destination, the wind had blown most of the snow off the ice and they were crossing the most beautiful blue ice.
After about 5 hours their goal was in sight. Although they made it to the Pole on Thursday, they wanted to make it to the old Isachsen weather station. Their pilots also requested that they ski to this particular destination as there is an old airstrip and they prefer the safety of this over landing on the ice.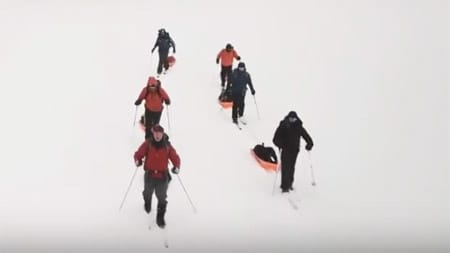 The Isachsen weather station was built in 1948 as an early warning station and weather station similar to others across the Arctic. The base was closed in 1978 and everything is as it was then. The team did a little exploring and there are about 20 buildings including a huge garage with about 10 vehicles in it (2 bulldozers, several tractors, and a few dump trucks), there is a mechanic shop with a truck mid service with the hood still up. There is also barracks, about 10 snow cats, and several office and maintenance type buildings. It was quite fascinating and the team were glad they made the effort to get there.
The team headed back to Resolute on Saturday and were very excited about being able to shower, change their clothes, eat food that wasn't freeze dried and sleep in a bed! It was a difficult but very satisfying trip and we're so happy that everyone is feeling happy and accomplished.