Bounders' Log – D. M. Ditson
I didn't give courage much thought as I packed for my Rocky Mountain Women of Courage trip with Outward Bound Canada in the summer of 2015. I was going for the adventure and was confident the skilled guides accompanying our group of eight survivors would render any courage on my part unnecessary.
I'd heard there were no grizzlies left in Alberta. With no big, bad bears and with a pair of guides to keep our group fed, bandaged and pepped up, I thought I had nothing to worry about.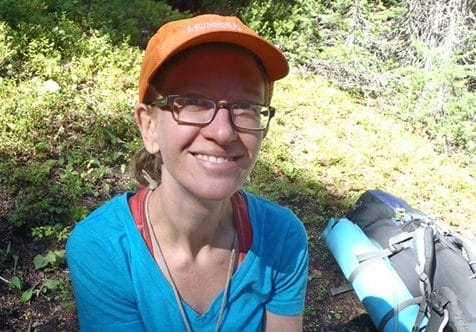 But when I arrived in Canmore and asked for reassurance that the only bears roaming the mountains were from cuter, more-peaceful species, I found out I had been misinformed. Grizzlies are alive and well in the Rockies, and we'd be hiking right into their territory.
I spent the first two days afraid and sticking near the centre of the group, the smartest place for prey if a grizzly decided to attack. But as my group kept hiking, my fears faded.
My anxiety diminished to the point that when our group did see a grizzly 200 meters away, I didn't tremble. Instead I watched in awe as the grizzly took a bath, shook himself like the most-domesticated of dogs and strolled off in the opposite direction.
Since that trip four years ago, my courage has grown exponentially. I'm brave enough now to speak publicly about the sexual assaults I endured as a young woman and the post-traumatic stress disorder I suffered as a result.
I went from burning, burying and flushing the pages of my diaries to committing my words to paper and letting them exist. At first I shared my story with one safe person. Then another. And then a few more. And little by little, for the first time since the assault that broke my brain, I allowed other people to see all of me.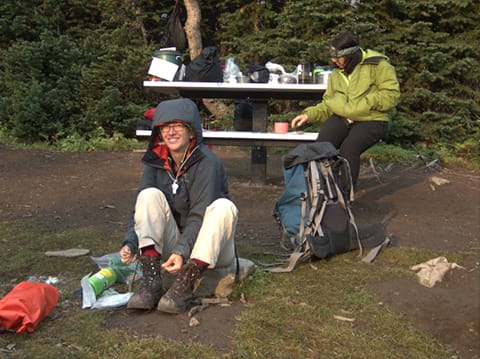 I had been afraid that my past made me unlovable. But as one friend after another responded to my story with kindness, I learned to accept myself in spite of my shame. And over the years that shame has healed too.
Each step I took with Women of Courage made me stronger because it proved that I what I thought was impossible – hoisting my pack, getting to our destination or making it up the next steep incline – was well within my reach.
I still marvel at the memory of myself on the mountain: the fatigued legs that kept going, the fears that abated and the heart I had grown along the way that was big enough to love my whole self.
My experience with Women of Courage was so powerful that it became the ending for my memoir Wide Open.
I'm beyond grateful for the donors who gave generously to support my healing and who continue to transform lives by contributing to Outward Bound Canada's charitable programs.
To learn more about our Women of Courage program and how you can donate, click here.