Bounder's Log: Connie & Shelley
Earlier this year, Shelley and Connie reunited 38 years after their original Outward Bound Canada expedition in 1980. They have since spent time together reminiscing, reconnecting and reigniting the Outward Bound Canada experience.
In August 1980 Shelley and Connie met for the first time at Keremeos, B.C. as part of Outward Bound Mountain School's K2 Patrol. Alongside seven other students, they spent 26 days together learning through adventure and exploring beautiful landscapes:
"I was constantly challenged whether it was; kayaking the Ashnola River, rising early every morning in base camp to run followed by a plunge in the river all before breakfast, learning to rock climb, setting up river crossings, completing a three-day solo or route finding while hiking with seven other students from across this country and one from across the pond. My highlight was our climb to the summit of Cathedral Mountain under a full moon to bivouac at 8600 ft. Nine students and two instructors slept on a rocky ledge and woke to watch the sunrise before leaving our sleeping bags."

– Shelley
It was that remarkable sight of eleven adventurers on that rocky ledge watching the sunrise that rekindled Shelley and Connie's connection with Outward Bound Canada, nearly two decades later.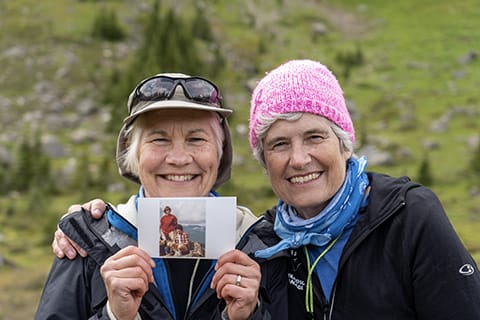 Members of our marketing department got in touch with Connie to ask if they could use that photo, among others from her online photo collection to promote Outward Bound Canada's 50th Anniversary. Connie decided that, because the photo belonged to Shelley, she would reach out and re-connect with her to tell her the exciting news:
"I checked my Outward Bound journal for her full name and 1980 address. I searched 411 Canada and Facebook and was lucky enough to find her in both places under her maiden name. I took the plunge and called her. Her husband answered, and on hearing my explanation said: "You must be one of the people in that big Outward Bound photo on our wall!"
Clearly, the Outward Bound experience had also remained a fond memory for Shelley, and she was delighted to hear from her old patrol member. Both are now living in Alberta, Connie and Shelley decided to get together in March to re-connect and reminisce while snowshoeing and exploring the frozen landscape of Abraham Lake and its magic methane bubbles.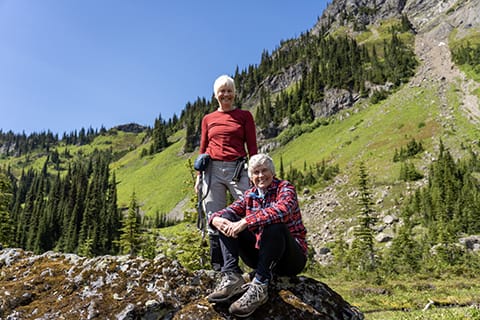 GETTING OUT
Earlier this summer, they reunited once again to participate in a Re-Bound Weekend, a three-day adventure in celebration of the approximately 150,000 participants who have now become Outward Bound alumni. In anticipation of a new adventure as new friends, they planned a trip that took them back to where it all began according to Connie:
"Our plans evolved to make this trip a celebration of our reunion as Outward Bound friends; we arranged a wonderful side trip to the Similkameen Valley and Keremeos to revisit the original Outward Bound Mountain School site. It is now a teen recovery centre, but this location still holds very special memories. We dipped our feet in the Similkameen River and reminisced of those Outward Bounder's who were brave enough to jump off the old Red Bridge!"
Spending three days hiking the HBC Heritage Trail in B.C. with other Bounders was also an opportunity to create new memories and connections while immersed in the magic of an Outward Bound experience:
"The Rebound Weekend expedition was completely amazing and rewarding in every aspect. In keeping with the Outward Bound traditions and philosophies I had known from 38 years ago, the growth aspects came from the skillfully conducted activities designed to help us bond; self reflects; take on some challenges and vulnerability risks and develop learning through collaboration and positivity."

– Connie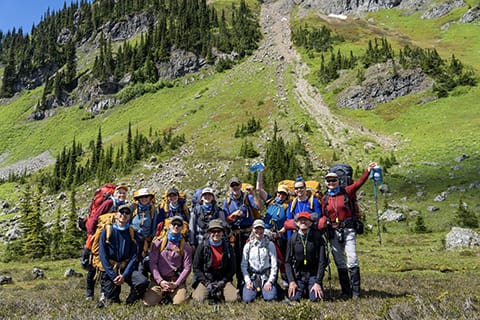 LOOKING IN
A significant aspect of reconnecting and reuniting has been reflecting on how their Outward Bound experience has influenced their lives. Both Connie and Shelley remain active outdoors, a spirit of adventure and a joy, they say, that was awakened by Outward Bound.
Connie credits her Outward Bound experience as contributing to overcoming fears and developing key skills that supported a successful nursing career:
"From my experience came the recognition that my insecurities: shyness, fear of drowning while kayaking and fear of the unknown being alone in the wilderness might be overcome. Outward Bound instructors skillfully helped us step into those realms of difficulty and supported us through our learning. How amazing was that! Most notably, I thank Outward Bound for helping me develop more courage in the areas of leadership, positivity and collaboration (allowing others to help me during times of vulnerability). With this, I think of the Outward Bound compass symbol offering vital direction in my lifetime."
Shelley's experience also helped to provide direction in her career and work in the community:
"I also credit, in part, my experience with Outward Bound for leading me to a career in public service with vulnerable children and youth, and families of children with disabilities. Our patrol's day of service was spent rock climbing and completing a river crossing with young adults with disabilities from a neighbouring community. I so clearly recall climbing side-by-side with my partner, supporting and encouraging him and recognizing the fear and thrill of accomplishment in his eyes. I completed a degree in Social Work three years after my Outward Bound course. Now, as a retired social worker, I still find Outward Bound influences my volunteer choices and interests."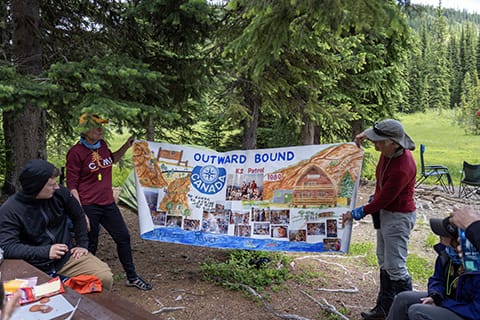 GIVING BACK
With only a few months since their reconnection, both Bounders are looking forward to many more years of continuing their Outward Bound adventures and providing opportunities for others to access our life-changing programs. In Connie's words:
"From the Re-Bound Weekend, I took home a tremendous sense of happiness, fulfillment and a desire to self educate and help grow Outward Bound Canada through supportive actions – "Paying it forward"! This would be accomplished by promoting Outward Bound's current philosophies; programs; benefits and sponsorship opportunities for the next 50 years. I am ready to embrace this next challenge and give back!"
What Adventure Awaits You?
Connie and Shelley's story is a testament to our incredible alumni community, consisting of the students that have been central to the success of Outward Bound Canada over the last 50 years. As they've shown, the Outward Bound experience doesn't end after your course, in many ways, it's just the beginning.
To continue your journey with Outward Bound, become part of our thriving alumni community on Facebook and LinkedIn, or join our mailing list to re-connect, reminisce and rekindle your Outward Bound adventure. Share your story and invite fellow Bounders into the community, or just like Connie, start your own search – who knows what adventure awaits?