2020: Year in Review
The year 2020 certainly looked different for Outward Bound Canada, as the social and economic impacts of the COVID-19 pandemic hampered our ability to serve young people, primarily due to disruption to our programs and decreased opportunities to fundraise. Despite facing significant obstacles during this time, we focused on a number of initiatives to strategically position the organization to resume our transformational programming in 2021. 
Outward Bound was founded during the Second World War—another period of social and economic instability—to help young sailors cope with the challenges faced at sea. We have a rich history of helping young people develop the skills needed to navigate through times of uncertainty and know that due to the increased challenges faced by youth as a result of the pandemic, our programs will be needed more than ever.
Those who were able to experience an Outward Bound adventure last year were able to get back out into nature, reconnect with themselves and others, and develop the skills needed to navigate their future with confidence. We look forward to continuing to work together with our partners to make these empowering outdoor adventures a reality for as many young people as possible in 2021 and beyond.
We have provided a summary below of some of the participant journeys and organizational efforts we accomplished in 2020. We are grateful to all of Outward Bound Canada's participants, alumni, staff, volunteers and Board of Directors for their tremendous support during such a turbulent time. Thank you for everything you have done. We would not be here without you.  
Sincerely, 
Andrew Young, Executive Director
---
2020 Programs 
Having successfully delivered some courses in the winter months before the pandemic, we experienced significant disruption through the cancellation of our programs from March to the end of July. While we were able to deliver a limited number of in-field programs from August to October, a number of factors, including provincial age limits on youth overnight expeditions, group sizes and travel restrictions, in addition to reduced staff and resources, limited our ability to deliver programs at scale.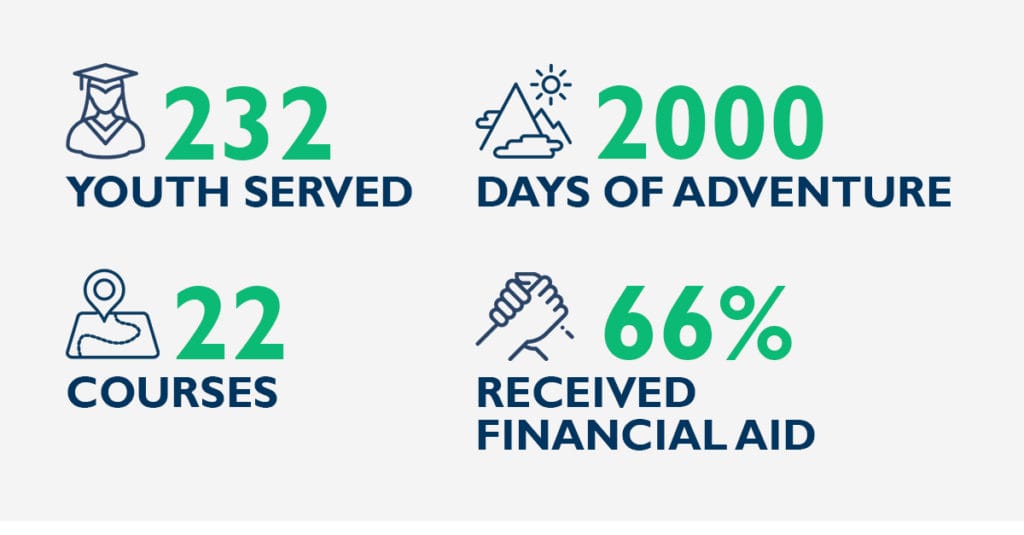 Despite these challenges, we served 232 youth on 22 courses this year, totalling nearly 2,000 days of inspiring adventures in nature. Sixty-six percent of participants received financial support to attend a program, thanks to Outward Bound Canada's generous donors and through our partner organizations. Activities ranged from canoeing and snowshoeing in Algonquin Park, Ontario, to hiking the Rocky Mountains of Alberta, sea kayaking off the West Coast of British Columbia and more. In response to restrictions on providing overnight programs for youth under 18 years old, we delivered two day Hike and Canoe day camps in Toronto this August where youth could explore nature close to home while having fun and making new friends. 
Through these experiences that may otherwise be out of reach, young people are equipped with the skills needed to navigate future opportunities and challenges and reach their full potential. Zach, who was able to participate in one of our day camps in August thanks to our supporters, said this of his experience:
"With the shutdown of both school and all extra-curricular activities, it's been very difficult… Outward Bound was incredible – my biggest success was knowing that people just accepted me for me. I love the outdoors. It was fun to be physically active, learn new crafts, new canoe techniques, hike in beautiful locations and paddle – all here in my own backyard." 
We also developed an online learning program that was offered on a pilot basis to three schools to help students continue to engage with our expeditionary learning model curriculum during the pandemic. In addition to preparing youth for a future expedition, the "Second Nature" program fostered learning in the areas of resilience, social competence, and environmental awareness.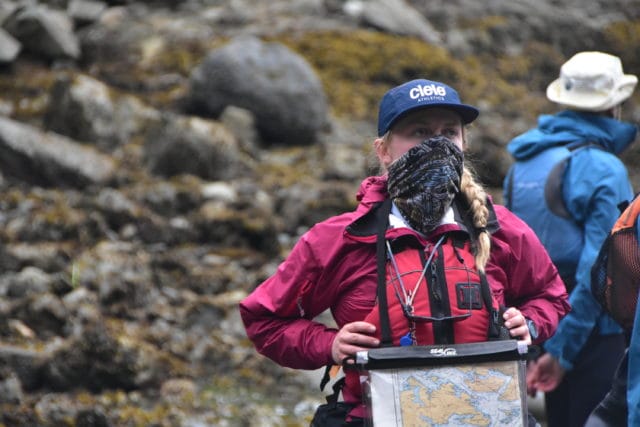 Programs for Indigenous Participants 
For nearly four decades, Outward Bound Canada has delivered outdoor education opportunities to Indigenous youth and adults in partnership with community stakeholders and donors. In the time OBC has been providing programs to and working with Indigenous Peoples, the organization has realized tremendous success. With programs delivered in six provinces to thousands of Indigenous participants, many individuals, communities, and Nations have benefited from experiential learning, outdoor skill development, and a reconnection to the Land. Because of these partnerships, OBC has also benefited from an understanding of Indigenous ways of knowing through learning opportunities for our staff and a deeper connection to the traditional territories we navigate.
To ensure that our programs for Indigenous participants continue to evolve to meet community needs, we launched a Reconnect, Reflect & Integrate Project-Programs for Indigenous Participants Strategy Plan in July 2020. As part of this initiative, we will visit with and learn from our Indigenous participants, instructors, and community partners to gather their reflections on our programs, gather their insights, and incorporate their knowledge into a renewed curriculum and program strategy. 
Having completed the 'Planning & Development' phase, we are now in the second 'Reconnection' phase, which involves stakeholder engagement through one-on-one virtual and in-person meetings, small focus groups, and administering surveys to gather data. During the next stages of the project, we look forward to developing an implementation strategy based on our learnings and integrating learnings where possible during the 2021 season.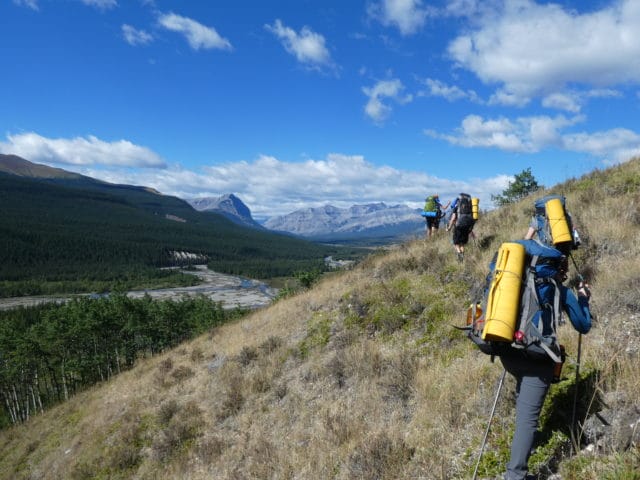 Adapting to COVID-19
This year, we successfully re-engineered our programming and implemented significant organizational change to comply with evolving COVID-19 health and safety guidelines to protect our participants, staff and members of the broader communities in which we work. Activities that we have undertaken include: designing and implementing pre-course and in-field health and safety measures; testing and adapting these protocols for both land-based and water-based activities with expert instructors; and providing staff training on our adapted service updating our onboarding and admissions process. We have also invested in purchasing the additional equipment required to limit the virus's spread by maintaining physical distance and practicing recommended hygiene practices. 
Outward Bound Canada has played a leading role in developing risk assessment and mitigation strategies and disseminating these learnings to partners to benefit the industry in Canada and beyond. We continue to work closely with colleagues across the Outward Bound global network to share knowledge, in addition to partners here in Canada, including Paddle Canada, Thompson Rivers University Adventure Guides Program, and Algonquin College Adventure Guides Training Program.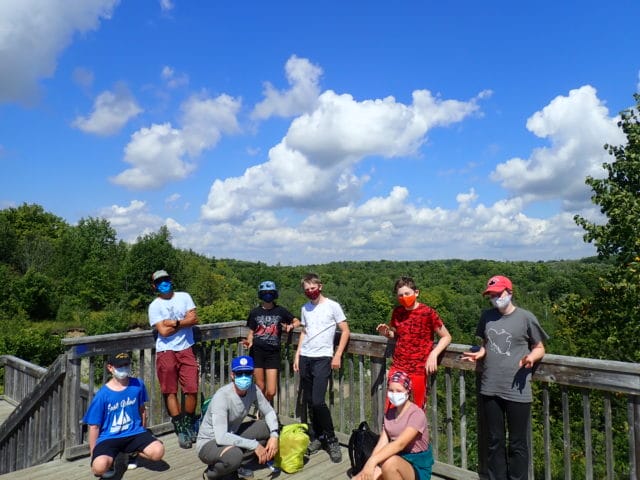 Diversity, Equity and Inclusion
Over the past 50 years, Outward Bound Canada has realized success delivering programs to and working with a variety of diverse populations, including Indigenous Peoples, Black populations and People of Colour, youth from low-income families, newcomers, 2SLGBTQ+ communities, veterans, and women survivors of violence. As we continue to work with diverse students, staff, and stakeholders, we recognize the need to ensure that our programming and organization consider their experience and evolving needs.
In early 2020, we launched a Diversity, Equity and Inclusion (DEI) committee and strategy. Following the initial project definition and planning work, the first phase of the plan focused on delivering a series of mandatory workshops to develop a base set of knowledge and common language amongst the team. We subsequently sent a survey to staff to gather feedback and seek input into the plan's second phase. This second phase will focus on organizational action, including amendments to existing policies, external promotion materials, employee handbooks, hiring practices, staff forums, performance review criteria, and more. These efforts are an early evolution of our work on diversity, equity and inclusion. We will continue to adapt and expand on this work as we continue to progress.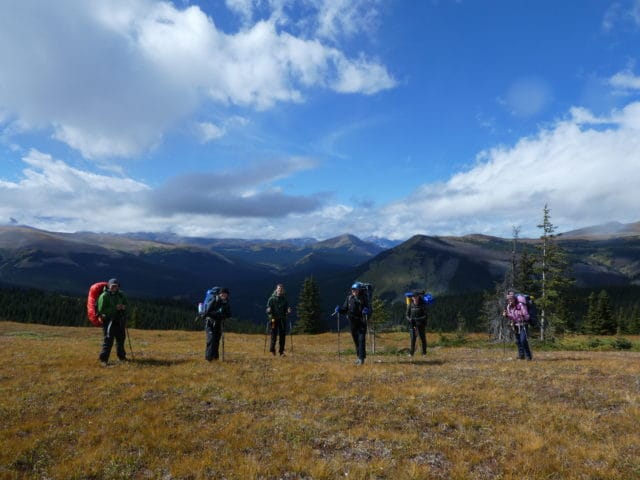 Sustained Impact & Social Return on Investment 
This year, we worked with Bain & Company as part of their global commitment to pro-bono Social Impact work to develop a social return on investment framework to help us better communicate our programming's sustained impact. The study measured the long term impact of our programs on participants' lives in three key areas—mental and physical resilience, social competence and environmental awareness—and the broader impact of these outcomes on society. The results demonstrate that every $1 donated to Outward Bound Canada returns at least $13 in value to society through a higher likelihood of school completion and success in the workforce, and a lower risk of physical and mental illness for participants. For more information, you can access the full report here.