International Women's Day – Choose to Challenge
Outward Bound Canada has been shaped by so many women throughout our history. Today we are celebrating a few of the thousands of women who are part of our community and who demonstrate the theme of this year's International Women's Day, "Choose to Challenge."
Nicole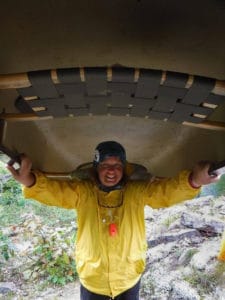 In 2016, Nicole participated in our Women of Courage program. While canoeing and portaging through Northern Ontario, she realized her potential by overcoming many physical challenges. During her 24 hour solo (a time in an expedition when participants find a secluded space for individual reflection), Nicole remembers being scared to go to bed, but after making it through the night she realized, "I have made it through many dark nights. I am strong and brave."
Since participating in the Women of Courage program, has completed a Bachelor of Social Work, while working full-time and raising a family and is starting her Masters of Social Work this Fall. She has also spoken at provincial conferences for lawyers, judges and police about the effects of sexual assault and as a guest speaker at the Ontario Police College for officers wishing to become sexual assault detectives. She says: "I learned that my voice did matter and that my story could change the lives of others."
Maddy
Like many young people her age, 17-year-old Maddy was facing challenges with anxiety, identity and feeling confident about her next steps in life. Deciding that she needed to spend time in nature and broaden her horizons, she enrolled in Outward Bound Canada's 32-day whitewater canoeing trip on the Missinaibi River. She says that the opportunity to overcome challenges in a safe, supportive and empowering environment, and the opportunity to connect with herself and others, helped her grow and develop at a pivotal time in her life. "I had an overwhelming sense of accomplishment," she says. "This course was the hardest and best thing I'd ever done. I had the confidence, courage, and resources to do anything."
Now 24, Maddy has completed a Diploma in Child Youth and Care from Georgian College and is currently studying toward a Bachelor's Degree in Children, Childhood & Youth at York University with a focus on youth mental health. A passionate advocate of positive youth wellbeing, she wants to use her experiences to help other young people reach their full potential.
Morgan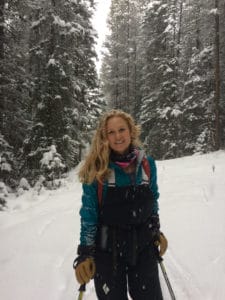 When Morgan joined Outward Bound Canada as an instructor in 2016, she was not a stranger to outdoor education. In 2009 she participated in a year-long NOLS course in Patagonia, Chile. Upon returning to Canada, she worked at St. Micheals University School, Strathcona Park Lodge and a wilderness treatment centre.
During her time with Outward Bound Canada, Morgan has led several expeditions in British Columbia and Alberta, including veterans and Women of Courage courses. One of her favourite memories is from last year:
"A girl was tasked with being the leader of the day. She had been leading the group through the forest for a couple of hours. I could tell she was nervous, but she was doing a great job. The group was tired, so they took a break. The trail she was leading us towards was up ahead but I knew she didn't realize how close it was. I said, 'Hey, come with me.' We walked about 100 meters, and when she saw the trail she started to cry and said, 'I can't believe I did this.' She cried for about five minutes out of happiness."
That moment stands out to Morgan because she can see participants transform over the course of the expedition, building courage and confidence.
She is currently completing her Master's of Conflict Analysis and Management at Royal Roads University and is pursuing a career in mediation.
Thank you to all the amazing women who make up the Outward Bound Canada community. By "Choosing to Challenge" your fears and helping others realize their potential, we can shape a more inclusive world.