Redefining education: Shaylin Warren's path to empowerment with the OBC Training Academy
In this blog, OBC Training Academy graduate Shaylin Warren shares her journey from growing up on Vancouver Island to becoming an Outward Bound Canada instructor, helping others connect with nature and their heritage through outdoor education:
My name is Shaylin Rayne Warren, I'm the eldest daughter of John Warren and my mother is Deirdre Thomson. I'm a member of the Songhees Nation, traditional territory of the lək̓ʷəŋən People. My relations here are to the Albany family of the Songhees Nation and the Warren family of the Esquimalt Nation.
Growing up on southern Vancouver Island, my family never ventured far from the Salish Sea – no need really, plenty to experience nearby. But when I got older, I wanted to travel. So after high school, I saved up enough money to backpack for six months through Europe and then Southeast Asia. Looking back, it was all so beautiful; both humbling and enlightening. I returned with a greater appreciation for home and quickly enrolled at the University of Victoria to work on getting a BC teaching certificate.
Shortly before, the BC government had released a new curriculum which included (and therefore required teachers to teach) more Indigenous pedagogy, like, "learning involves patience and time." And, "learning ultimately supports the well-being of the self, the family, the community, the land, the spirits, and the ancestors." Also, "learning involves recognizing the consequences of one's actions." I witnessed resistance against this new push in schools from experienced teachers who weren't keen on adjusting their practice, and from developing teachers who seemed, or expressed they were, worried about making mistakes. There was good going on too but I was becoming frustrated with the bad. It all started to weigh down on me slowly, feeling especially heavy when I thought of all the students I encountered in classrooms who were not thriving.
If it was a nice sunny day – which became more prevalent over the course of my three-month teaching practicum at Ray Watkins Elementary School in Gold River – I could always count on at least one "Ms. Warren, when can we go outside?" I couldn't blame the grade 5/6 students for not wanting to endure the next couple of hours indoors with me. Geez, I wanted to get out too! Smiles are brighter under the sun. Laughter is buoyant. Leaders rise. But professors never taught us student-teachers much about managing students out in the trees: the focus was on inside the confines of the classroom walls, so I realized that I needed to find a new source of information if I wanted to be a safe and effective teacher, inside and outside. Drumroll please…
For Outward Bound Canada's new (and free!) initiative: The Training Academy, designed to develop the next generation of outdoor leaders.
I was fortunate enough to be a participant in the Fall of 2022. I wasn't too sure what I was getting myself into when I drove up island and pulled into Camp Gilwell, the Scout's camp where I was instructed to meet everybody for the first time. I had never attended a camp like that before. All I really knew is that I would be ocean canoeing and expedition camping in Desolation Sound from September 15th to 28th, whatever that meant. Well, turns out it meant a lot. Getting closer and closer to my ancestors, my self-esteem lifted with each paddle stroke. I learnt what it takes to live comfortably in the elements, how fulfilling it is, and how much I needed it to heal.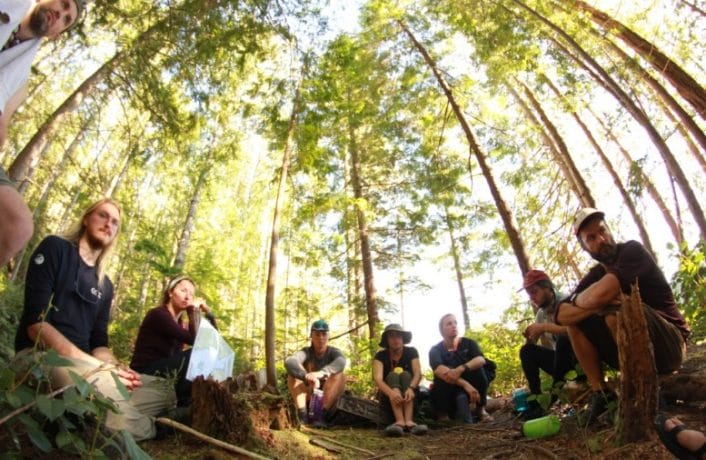 Now, almost a year later, the canoe is my preferred mode of travel. Sleek. Graceful. Roomy. Quiet. Capable. I've even got one waiting for me in my backyard right now. I know how to read maps and charts, follow a compass, tie knots, predict weather and so much more. I'm suddenly connected to all of these cool outdoorsy people who are passionate about education in a way that I can get behind. I'm trained in coastal canoeing and sea kayaking. I set up a mean tarp and sleep soundly underneath it even next to wolf tracks, although the mice have been giving me a tough time lately. Oh, and I'm now working full-time for the Training Academy as an instructor here in British Columbia.
I recognize the profound impact that the Outward Bound Canada Training Academy had on my life and I look forward to working with others on its behalf. When you grow up hearing stories about your ancestors on the lands and waters not that long ago, it can give you a sense of inadequacy without those teachings. I want more Indigenous young peoples to feel empowered, self-sufficient and connected on the lands and waters. Others too. I believe that the Training Academy has the tools and resources to work on bridging this gap in a good way. That's why I'm here. Thanks to the Training Academy (and coastal canoe instructor Shawn Kangro's emphasis on strong posture) I stand up a little taller now.
If you've taken the time to read some of my story here, hych'ka siem and I hope we get a chance to work together one day!
About the author:
Shaylin Warren considers herself very fortunate to live as a guest on the traditional territory of the Pacheedaht First Nation, in Port Renfrew, alongside the waters, big trees and small community. Reach her out at shaylin_warren@outwardbound.ca.