CWF: Canadian Conservation Corps
Outward Bound Canada is thrilled to be working with The Canadian Wildlife Federation as part of their new Canadian Conservation Corps (CCC) initiative, a three-stage program designed to engage young Canadians in their natural and cultural heritage through service, adventure and reflection. OBC has teamed up with CWF to design and lead the expedition stage, which is intended to help participants learn more about themselves, their peers and the environment around them.
By travelling and reflecting together, participants will build social capital, conservation ethic and the tenacity required for success in life. In later stages of the program, they will take on conservation and environmental field work, and return home to develop outreach and service projects in their own communities. CCC is part of the Government of Canada's recently announced Canada Service Corps. To learn more about this collaboration, read on below or check out the CWF website.
This three-part program presents an exciting opportunity for youth ages 18 to 30 to learn, grow and experience Canada in a unique way while having a real impact on conservation. Your adventure begins with an exciting wilderness journey followed by field training with national leaders in conservation. You'll then develop your own idea into a meaningful service project in your home community. Are you ready for what could be the greatest adventure of your life?
WHAT'S INVOLVED IN THE PROGRAM?
Participants in the CCC program will take part in three distinct stages:
1: Stage One (Expedition)
Sea kayaking along the coast. Backpacking through the Canadian Rockies. Dog sledding through snow-bound national parks. These are just a few of the options Corps members will enjoy during their Stage 1 wilderness adventure. This stage is all about discovery, whether it's learning about conservation or finding out more about yourself and what it means to be part of a successful team. The expeditions will be designed and lead in collaboration with Outward Bound Canada.
2: Stage Two (Field Training)
In this stage CCC participants will take part in exciting hands-on conservation and environmental field work, working alongside experts to complete work in three vital conservation categories: Habitat Creation and Restoration, Wildlife Management and/or Environmental Science. Corps members will have a chance to complete meaningful service learning to deepen the lessons learned in the first stage of the program. During this stage, participants will also begin to collaborate with peers across the country to develop outreach and service projects they can deliver during stage three of the program.
3: Stage Three (Outreach and Service)
This is where you put your ideas in motion in the hope of making Canada a better place. In Stage Three, you'll work with partners to execute your idea in your home community, delivering a service project designed to inspire other youths ages 15 to 30 to get involved. It's a "pay it forward" initiative you develop and deliver built around a conservation issue of your choice. In the end you'll have a deeper appreciation for the natural world around you and a great sense of personal accomplishment.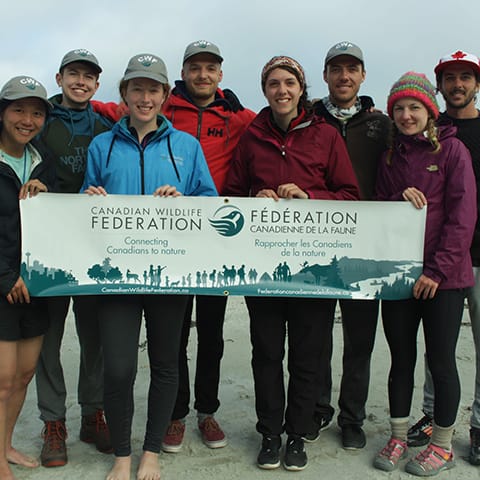 WHO IS ELIGIBLE FOR THE PROGRAM:
The CCC program is designed for all Canadians ages 18 to 30. No matter what community or background you come from, we want you to get involved! There are no educational requirements either; the CCC program is meant to provide an exciting new opportunity for young Canadians looking for a meaningful experience designed to help improve their chances for success in the future. Special attention will be given to recruit youth from both official languages, as well as youth who are of Indigenous descent or new to our country. If you're ready for adventure, this is the program for you! Apply now!