Nahanni Expedition Blog 2018
Follow along from home as we share updates from the field on our paddle along the breathtaking Nahanni River. Updates from the field provided by our instructors Angus Murray and Jason Kuruc. Please visit Outward Bound Canada's twitter (@OutwardBoundCan) to see photos shared by instructors.
There are two trips to the Nahanni River this August. First is Nahanni Trip 3, which runs from August 4 to August 15, and is led by Jason Kuruc. Second is Nahanni Trip 2, which runs from August 6 to August 17, and is led by Angus Murray. Updates from both trips will be seen here.
Nahanni Trip 3 – August 6: The team is camped at Virginia Falls taking in the picturesque views and making final preparations for downriver travel.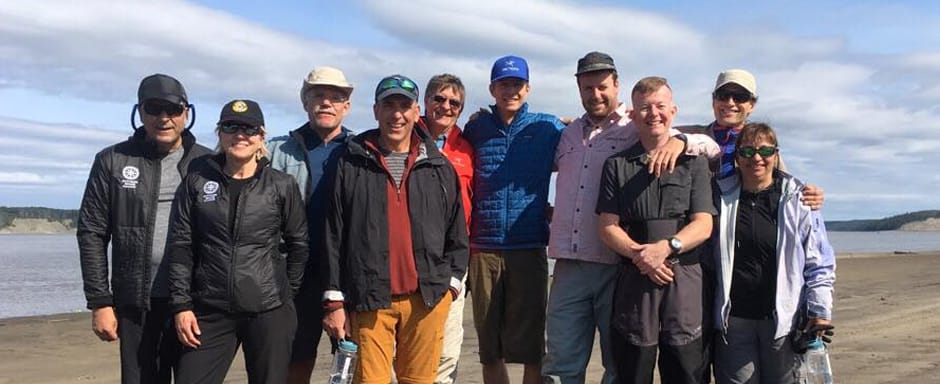 Stunning view from the top of Sunblood Mountain near Virginia Falls on the South Nahanni River! Mountain ridges and valleys as far as the eye can see. – Jason
Nahanni Trip 2 – August 6: Angus and his team are in Fort Simpson, Northwest Territories organizing gear, making final preparations, and getting to know each other before they fly over the Nahanni Range and Ram Plateau to officially begin their trip.
Nahanni Trip 3 – August 7: Paddled through Fourth Canyon's class 2+ whitewater after a challenging portage around Virginia Falls. Camped at Marengo Creek tonight with a beautiful sunset. – Jason
Nahanni Trip 2 – August 10: At the gate campsite. All well. – Angus
Nahanni Trip 3 – August 10: Paddled through third canyon and The Gate yesterday along with a short hike to see Pulpit Rock. Continued through the spectacular Second Canyon today. – Jason
Nahanni Trip 3 – August 12: Floated through First Canyon today. Breathtaking views around every bend! Hiked up Lafferty Creek to the Slot Canyon pools. Gourmet food has become standard fare. – Jason
Nahanni Trip 2 – August 13: Now at Lafferties Creek camp for 2 nights. All well. Ran George's Riffle today. Tomorrow afternoon we hike up the canyon. – Angus
Nahanni Trip 2 – August 14: This morning we will do solo spots. This afternoon we will do a hike up the canyon that involves walking and swimming through small pools! – Angus
Nahanni Trip 3 – August 14: Final stretch of water took us to Nahanni Butte with local water taxi and ground transport to Sue Lindberg's for dinner! A great way to end the trip 🙂 – Jason
Nahanni Trip 2 – August 14: Tomorrow we paddle our last major rapid of the trip. Lafferties. Then it is on to Kraus Hot Spring for well deserved soak. We have 60 km to paddle to our final campsite in the splits area of the river. – Angus
Nahanni Trip 2 – August 14: At camp, all well. Paddled 60 km today. – Angus