"After the trip, he was happy, healthy, and smiling from ear to ear!": A mother's perspective on her son's Outward Bound Canada adventure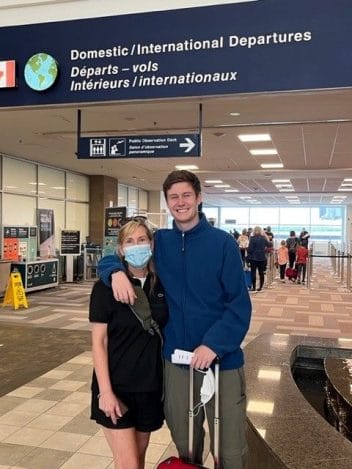 Scrolling through LinkedIn one day, we came across Janet's post from July 2022 featuring a photo of herself and her son, Eldon, at the airport. In the post, she expressed her anxiety as she dropped Eldon off for his first solo plane ride to join Outward Bound Canada (OBC) on a two-week backpacking trip in the Rocky Mountains.

Janet, an educational consultant who helps young people and their families find and apply for scholarships across Canada, had recommended OBC to Eldon herself. But as a mother, it was difficult for her to see him go off on this adventure alone.
Intrigued by Janet's post, we reached out to her to learn more about Eldon's experience with OBC and the changes she noticed in him after he returned home. We're grateful that she agreed to share her insights with us in the following interview, hoping to inspire and encourage other parents and guardians who are still on the fence about sending their child on an adventure with OBC this summer. 
Can you tell us a little bit about Eldon's experience with OBC?
Eldon participated in the 14-day Rocky Mountains backpacking trip in July 2022, when he was 16 years old. He didn't know much about OBC, but after a couple of years of social restrictions due to the pandemic, he was keen to have an independent experience and a different kind of adventure.  I knew about OBC's history and reputation, and as soon as I told Eldon about the opportunity, he was keen to go. 
This was his first time flying alone, and he flew from Halifax to Calgary to meet his group. From what he says, his group "gelled" right away.  He was very impressed with one of his guides who was the first Canadian to summit Mount Everest!
There were lots of interesting stories told during the trip. He had a fantastic time. He met different kinds of people from different areas of the country, saw a new and spectacularly beautiful part of Canada, and has lots of fond memories. 
Did you or Eldon have any concerns or reservations before attending the course?
Eldon never expressed any reservations to me. He was ready for an adventure and, at 16, he wasn't really thinking about much other than that! 
I admit I was a bit nervous about certain aspects of the trip, namely Eldon flying solo from Halifax to Calgary the day before he was to meet his group at the airport.  At first, we weren't sure where he would stay for the night, and we didn't want him to stay in the Calgary airport hotel by himself unless it was necessary.  Luckily, he was able to stay overnight at his uncle's house in Calgary, and he got him back to the airport in time to meet his group the next day.
I was also a bit nervous that the group might not "gel" and he'd be stuck for two weeks with people who didn't enjoy each others' company.  Also, we were told there wouldn't be any communication for most of the trip and I had to mentally prepare myself for that. And, of course, I also thought about bears…
As it turns out, none of that worry was necessary! My contact at OBC answered all my questions and addressed my concerns. She told me a bit about the "lay of the land" in Calgary, and provided general information on the group make-up (age, gender, etc.). I also know that OBC is a long-running professional organization with an excellent reputation, so I felt confident that Eldon was in good hands. After the trip, when we picked him up at the airport, he was happy, healthy, and smiling from ear to ear!
What was Eldon's favourite part of his OBC course? Did he mention any memorable experiences?
Eldon loved the challenges of the hikes and seeing the beautiful landscape (it was his first time seeing the mountains).  But I think generally the fireside chats are his fondest memories, especially after doing the 36-hour solo experience. Because the whole experience was quite challenging – in different ways – it really brought the group together. He loved learning about everyone's differences. People shared some really vulnerable moments during those fireside chats. They had a close knit and trusted bond, which allowed that to happen. Eldon said it not only helped him learn more about others, but it also made him reflect on himself, and his hopes and dreams for the future.     
In what ways do you think his OBC experience helped him grow and develop as an individual?
Overall, the experienced improved Eldon's confidence. Although he was in a group, and had experienced guides, there were definitely parts of the trip where he had to make decisions and trust his feelings and abilities. He also had to integrate into a group, learn his role, carry out responsibilities, and rise to physical challenges. He had to be comfortable with being by himself in the wilderness for the first time.  OBC provides excellent ways to create "controlled" challenges that helped Eldon gain confidence and improved his strength of character.     
How did Eldon's experience with OBC compare to other extracurricular activities he has participated in?
The OBC experience was more intense, in that it was a total immersion for 14 days. There was no easy "escape". You had to participate even if you didn't feel like it that day.  For Eldon, that was part of the excitement. He wanted to challenge himself in this way.
Eldon has participated in other kinds of extra-curriculars like Model UN, music competitions, and volunteering.  The OBC experience was completely different.  OBC tests you mentally and physically in a supportive environment.  It's not easy, but that's what makes it so effective (and fun!).  
You mentioned that Eldon used the skills and experiences gained through OBC in his college applications.
Can you tell us more about that, please?
Some universities require students to complete a personal statement for admission.  Some of the ways the OBC experience came out in his applications was through discussing taking on a challenge and engaging in teamwork. 
Universities like to see students who are willing to put themselves out of their comfort zone and engage in activities that encourage their personal growth and development.  They value initiative and positive risk.  Some universities also ask students to discuss their experience working in a team.  On his applications, Eldon was able to discuss his experience challenging himself, and his experience with team dynamics, from his OBC trip.
Based on your experience working with high school students to prepare for scholarships, how can OBC courses enhance a student's application and set them apart from other applicants?
Many students engage in similar kinds of extra-curricular activities.  If you've read a lot of admission and scholarship applications, some of the activities are quite common and it's difficult to stand out. 
The OBC experience is not only less common than other activities, but it also gives students great content to discuss in their essays.  They can demonstrate their ability to face a challenge, discuss how they work in a team, and how the experience helped develop their confidence, character, and independence. 
What types of college programs or majors could benefit from the skills and experiences gained through OBC?
The skills and experiences gained from OBC could be beneficial to discuss in any personal statement for admission or scholarship application that asks the student to reflect on a meaningful activity, why they got involved in it (their motivation), and what they learned from the experience. 
Some examples of these kinds of questions are on the UBC personal statement for admission, the Queen's Commerce supplemental application, and the Loran Foundation Scholarship. 
How do you think his OBC experience will help Eldon navigate challenges and take on new experiences in college and beyond?
Eldon seemed a bit different after the trip.  He seemed to have more of a quiet confidence.  Although he never said it, I think he was proud of himself, and I think that's great.  He starts university this Fall and there will be many different kinds of challenges ahead. His OBC experience is one that he can look back on and say, "If I can do that, I can do this." 
What would you say to parents who are considering Outward Bound Canada for their children?
I would definitely recommend the experience for young people who wish to have an adventure. 
For parents who may have concerns, I would say that OBC provides an efficient way to challenge your child and encourage their personal growth.  While there might be other ways for that to happen, they are not as intense, as effective, and not nearly as much fun!
Finally, is there anything else you'd like to share about your son's experience with Outward Bound Canada?
Perhaps this picture says it all – this is the day we picked him up — smiling from ear to ear!
About the interviewee:
Janet MacDonald is a Scholarship Coach for Canadian high school students.  With her company, mycampusGPS, she has helped students win hundreds of thousands of dollars in scholarships.  Janet was an Assistant Registrar of Admissions at Dalhousie University, and an Admissions Officer at UBC in Vancouver.  Her greatest achievement is playing a small part in her student clients' success. Check out Janet's blog for lots of great free information on admission and scholarships!