Gifts of Securities
Securities are the most efficient way to give charitably. When you donate publicly traded securities (stocks, mutual funds, bonds, etc.) these can all help to support Outward Bound Canada and ensure that more young people have the opportunity to access our transformative programs. The benefits of donating securities include:
• A donation receipt for the full market value (resale) of your contribution. Your gift will result in a non-refundable tax credit that will reduce your income taxes. You can use it in the year of your gift or carry it forward for up to five additional years.
• You pay no capital gain tax on the appreciated value of your securities. Donating securities directly to Outward Bound Canada avoids the tax on capital gains, maximizes the return on your investment and protects the tax credits for use against other taxable income.
For example, the chart below shows the tax advantage when you donate shares to Outward Bound Canada instead of selling them and donating the proceeds. This calculation assumes a tax rate of 50%.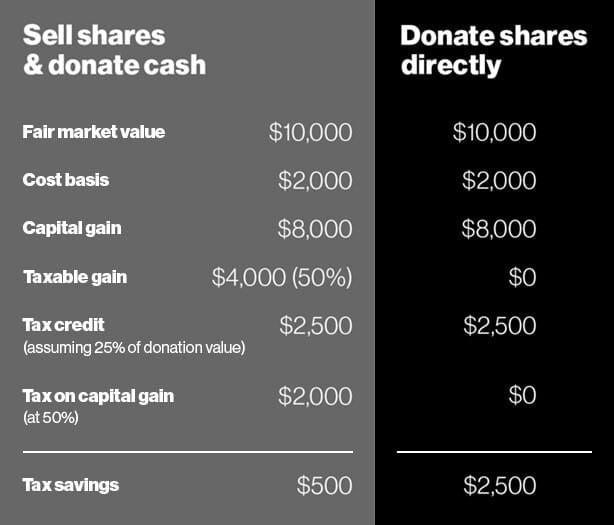 How to make a gift of stock:
There are two simple steps that need to be taken in order to make a gift of stock:
1. Contact your broker to initiate the gift
2. Contact Outward Bound Canada Foundation to inform them of your gift: 1-888-688-9273 or by email at jody_harmon@outwardbound.ca
1. Contacting your Broker
Your broker will require specific information in order to make an electronic transfer of stock from your account to the appropriate account of the Outward Bound Canada Foundation. This form ("Letter of Instruction for Stock Transfer") contains all the information your broker will need. You can complete this form and forward the information to your broker in order to initiate the transfer.
2. Contacting Outward Bound
In case your broker does not forward this information to Outward Bound, it is important to ensure that:
A. Outward Bound knows the gift is on its way.
B. Outward Bound knows how you would like the gift to be used.
C. Outward Bound knows whom the gift is from and in whose name to issue a tax receipt.
Please contact Jody Harmon to notify her of your gift, or fill out this form ("Notice of Transfer of Stock") and email, fax or mail a copy to the Outward Bound Canada Foundation Email: jody_harmon@outwardbound.ca;
Phone: 1-888-688-9273
What happens next:
Our broker will sell the stock on behalf of the Outward Bound Canada Foundation. Our broker then issues a cheque to the Foundation for the net proceeds of your gift. Once your gift is received, the Foundation will process your donation and issue a tax receipt.