Mace Carnahan's journey of self-discovery in Clayoquot Sound
My Outward Bound journey was one of the most transformative experiences in my life. My name is Mace Carnahan, and I'm from Vancouver, BC. I'm 16 years old and I'm in grade 11.
In the summer of 2022, I participated in my second Outward Bound Canada (OBC) course: a 21-day sea kayaking trip on the west coast of Vancouver Island with two days of surfing in the middle. Having done a week of sea kayaking for Indigenous youth in the summer of 2021, I thought it would be similar and that I was ready for it. I was, until our first day, which was to take us out on a lake for the "introductory week" of the course. Our instructor, Arran, had invited a local friend who told us the history of the land we'd be paddling on for the first week. On that first day on Kennedy Lake in the Tla-o-qui-aht territory, I realised that this trip was going to be much more difficult than my first.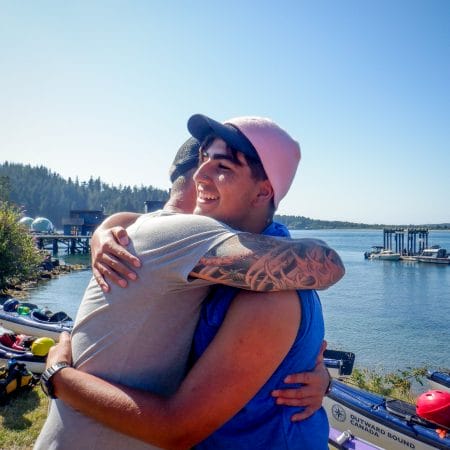 That first week on the lake we paddled about five or six nautical miles a day, which wasn't too bad. The headwind most days made everything worse though, and on the fifth day of the first week, as we were on our way to our pick-up point to head to the ocean, rain started to pour. Just absolutely dumping rain! There was also a lightning storm and yet we did most things as planned, only taking a short break on a beach to have lunch and wait out the storm. When it was over, we continued on to our overnight spot and arrived at our pickup point, which we affectionately named "Pete's Pickup Plaza" – I still have no idea how we came up with that!
After our introductory week on the lake, we drove to Tofino and launched into the ocean to paddle in the Ahousaht territory. Before we headed out to sea, Arran had another friend of his, Skookum John Lenny, tell us his story, the history of the land, the battles that had taken place there, and all about the disputes between the hereditary chiefs of the area and the Canadian government. After this introduction to the land, we made our way to the sea.
The first night we stayed on the most gorgeous beach I had ever seen, Medallion Cove, and the sunset was like no other I had ever seen. That night, myself and two of the other participants, Kurtis and Kai, sang Country Roads off a rock at the top of our lungs with Scottish accents and then took group photos with the sunset. The next morning, we headed to the biggest beach I've ever seen, Cow Bay, for our solo experience.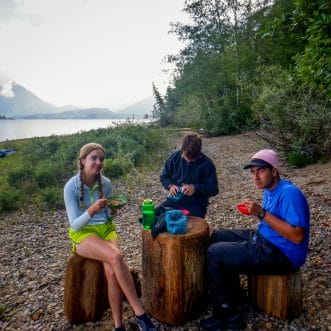 My solo experience was certainly a 48-hour period of realization about certain aspects of my life. The solo is definitely a mind-altering experience. It permanently changed my outlook on some things, which led to changes when I got back home. It started to feel like time was more finite which led to not holding much back in regards to my opinions, feelings, and thoughts. My solo also made me realize what defines me as a person: fire – it gives comfort, life, and warmth, inside and out, but it's really hard to stop once it decides what it wants.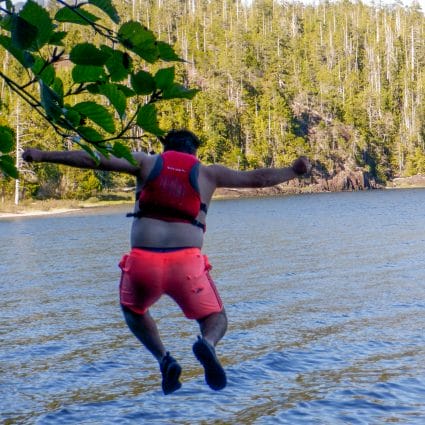 After our solo experience, we traveled to Ahous Bay and camped on the beach for three days and nights. There we did our surfing lessons in a bay that we had to hike to further down the island, the La Croix Group. After surfing there for two days, we headed back to Tofino and that's when it dawned on us that our time with our little family was coming to an end. Everyone was still having fun and enjoying everything, but there was also a certain sadness and melancholy in the air because we were really running out of time. On a trip like this, where you're not with anyone else for 21 days, it's scary to let go of the group because it really becomes a family.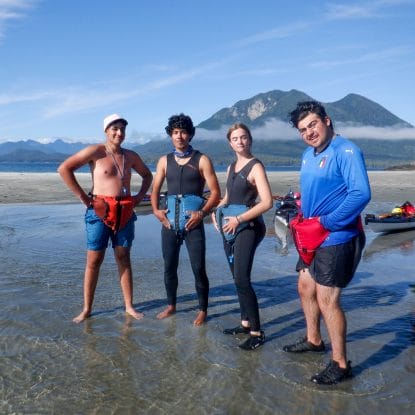 As an indigenous youth it felt great to be learning from and about the land, and its history, the events, the celebrations, and the battles and wars that had shaped the physical and the spiritual landscape. From the war in the woods to their continual fight with the government for recognition as rightful owners of the land, the Ahousaht people. 
Our last night by the sea was spent on Arran's friend, Skookum's land. He lived on a reservation called Yarksis and most marine charts say it's abandoned, but I can safely say that's not true. At Skookum's, we earned our keep by carrying firewood across the beach and cleaning up marine debris that had washed ashore. In return, Skookum and his wife Marci shared their stories with us and let us stay on the land of their people for our last night at sea and the second to last night in our small community.
The next day we returned to Tofino and were taken to the place where we had spent the very first night of our journey, a currently unused Scouts Canada camp. The instructors prepared our final dinner, which we got to choose, so we had burgers, chips, pie, and bubbly water. We had so much fun enjoying our last moments together that we forgot about the pie for hours until Arran, Clancy and Ainsley cut it and we all enjoyed one last dinner and dessert together as the sun set.
The next morning it was time to go. We had breakfast and lunch together, which was again a rather melancholy affair, and took down our tents for the last time. We hugged our instructors and each other when someone was dropped off at their destination, whether it was the airport where Kai was to fly back to Wisconsin, or Rhyenne to fly back to Toronto, and then me to catch the seaplane back to Vancouver.
As I waited in a coffee shop for my seaplane, it was so overwhelming for me to be around new people, because they were very different from the only people I had known for the past month, which had felt like a whole lifetime, almost a life and death difference. I needed time to readjust to society. I was a changed man, but I had to figure out what that looked like and how I was going to move through life going forward. 
When I arrived, I was surprised by my best friend who had organized a little welcome home party for me. She made a sign, invited my mom and a few of my other friends, and my friends and I went out to dinner. All in all, this trip was the most transformative experience of my life, and the best thing I could've done with a month of my life. I had experiences that I'll remember for the rest of my life, and I wouldn't change a thing even if I could.
Did Mace's experience inspire you? Check out our SUMMER COURSES 2023 and choose your own life-changing experience!