Nahanni River Expedition 2018
For canoeists, paddling the Nahanni River is truly a trip of a lifetime. The Nahanni is an UNESCO World Heritage Site that attracts visitors from around the world for its spectacular scenery. We will spend ten days paddling 240km of river through this pristine wilderness. Nahanni National Park is located in the southwest corner of the Northwest Territories, and is approximately 500 km west of Yellowknife. Follow along on this journey with our Expedition Log and meet our incredible team members who are fundraising for Outward Bound's charitable programs!
Follow along from home as we share our updates from the field on this paddle along the breathtaking Nahanni River!
Whenever possible, our team will share updates from the field as they explore this incredible UNESCO World Heritage Site. Come back for a visit to see where our two groups are at and what they've been up to!
Angus is an accomplished outdoor educator and guide and longtime member of the Outward Bound Canada team, having led his first OBC course as an assistant instructor in 1992.
He has guided expeditions throughout North America, and in Africa, South America and Europe and has been working in the outdoor industry for the past 30 years.
Jason has been instructing with Outward Bound in the Rockies for the past several years, and is also working as part of the program team out West as a course director based out of Canmore.
Jason has a deep passion for wild places, and his favourite thing to do is share that passion. Jason has been canoeing for over 25 years, guiding or instructing for about 15 years and has guided on the Nahanni for several years.
Jo first became involved with Outward Bound when her eldest son spent two summers on OBC's leadership programs. She later heard about the Kilimanjaro Fundraising expedition in 2015 and decided it would be the perfect challenge for her. After witnessing the transformative power of her Kilimanjaro expedition, Jo is thrilled to be able to help support Outward Bound's funded programs as she joins the team in August 2018's Nahanni River Expedition.
Imogen is a primary school teacher in the UK who recently ticked both skydiving and paragliding off of her bucket list. She is looking forward to her next adventure when she sets off on the Nahanni River Reach Beyond Expedition with her brother, Phil.
Phil works as a project manager for a communications agency in the UK, and has an impressive resume of outdoor adventures. In 2016 he hiked for a week in Iceland and more recently took part in Outward Bound UK's Rusty Rally, where he drove a black cab to Sweden.
This will Pierre's first time fundraising for OBC, and Edyta's third. After seeing the success of her fundraising efforts and the impact of Outward Bound trips, she is looking forward to participating in another Reach Beyond trip to help others experience Canada's wilderness.
Joanna's first experience with Outward Bound was on a canoe trip through Algonquin Park in 2015. She's excited to take what she learned then to her first whitewater adventure through the Nahanni River. Joanna is looking forward to supporting Outward Bound's mission through this Reach Beyond expedition.
Judy first became aware of Outward Bound when a presentation was made to her high school Outdoor Challenge Club at age 16. In 2015, Judy did an OB course kayaking in Clayoquot Sound to renew her strength and resilience at another stage of life transition. She has been a proud supporter of OB and its programs throughout her life. She looks forward to giving back to OB in the Reach Beyond – Nahanni River Expedition 2018 this summer.
Susan and Harold live in the Beach neighbourhood of Toronto. Susan enjoyed camping, canoeing and enjoying the outdoors from her days as a Girl Guide and then camp counsellor. Harold works as an engineer specializing in sustainable buildings, and is an active rower, cyclist and sailor.
Harold began his involvement with Outward Bound over 30 years ago. In 2013, the two participated in the Reach Beyond trip to Mt. Kilimanjaro.
Tim and Sam have gone on many adventures together over the years, from mountain biking in the bone dry Atacama Desert to hacking their way through thick and lush Venezuelan rainforest, but they've never been so fortunate as to spend 10 days together in a tent and canoe. They are excited but in awe that they get to paddle in such a remote and beautiful place together. They are looking forward to seeing who is first to drop their camera in the water, but failing that there will be a competition to see who can capture the best bird photo.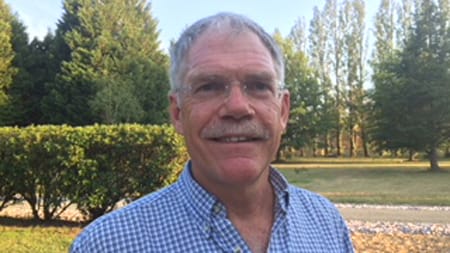 Craig is the founder and a Managing Director of ChapmanCraig Ltd. Hong Kong-based wealth management firm. He has a BA in Economics from McGill University. Craig began his career with the Canadian investment firm Wood Gundy in Canada in 1986 and has since worked in cities throughout the world. Craig has been a long serving trustee of the Hong Kong Outward Bound Trust and a mentor for various organizations such as the Chinese University of Hong Kong and The Canadian Chamber of Commerce. He is a proud husband and father and savours playing outdoors.
After a deployment to Afghanistan Mike reached out to the Outward Bound Veterans' program and participated in a mountaineering course. This course gave Mike more confidence and comfort in the 'great outdoors.' Mike returned to the program in 2014 as a participant and again in 2016 as an apprentice guide, kayaking on the Bay of Fundy. As a true believer in the philosophies of Outward Bound, Mike is looking forward to joining the Reach Beyond Nahanni expedition as he aims to help provide other veterans, along with Women of Courage participants, the opportunity to share in the OBC experience.
In grade school, Peter saw a National Geographic program on Outward Bound and instantly knew he would participate in one. That transformative moment came for Peter when he was eighteen in 1978, when he spent four weeks at the Outward Bound Mountain School in the Cascade Mountains near Keremeos, BC. Since then, Peter has participated in Reach Beyond expeditions to Bhutan and Iceland, and is excited for another adventure, this time on the the Nahanni River.